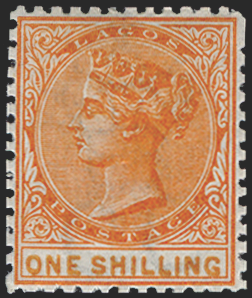 Nigeria (Lagos) 1874-75 1s orange, SG8a
Nigeria (Lagos) 1874-75 1s orange (value 16½mm long), watermark CC, perforations 12½, SG8a.
Brilliant mint example with large part original gum. Separated by scissors (resulting in odd fractionally shortish perforations). Still a lovely example, exceptionally fresh, beautiful colour and well-centred.
A very scarce stamp in this quality.
From 16 February 1906, Lagos became part of the Southern Nigeria Protectorate which then itself became part of modern Nigeria in 1914.
The Stanley Gibbons catalogue value is £425.
BUY NOW: Order online, by phone +44 (0)1534 639 998, or via email info@paulfrasercollectibles.com
Payment & Security
Your payment information is processed securely. We do not store credit card details nor have access to your credit card information.