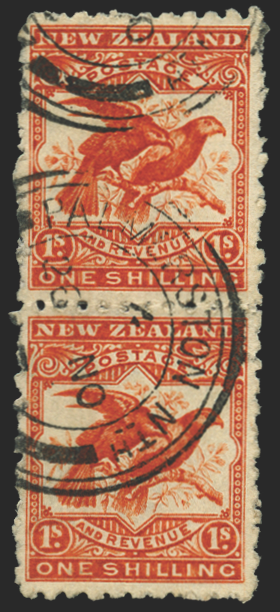 NEW ZEALAND 1902-07 1s orange-red "Kea and Kaka" error, SG315ba
£4000.00
New Zealand 1902-07 1s orange-red "Kea and Kaka" ERROR WATERMARK 12b (INVERTED), vertical pair neatly cancelled Palmerston North circular date stamps, SG315ba.
An exceptional quality used pair and very rare multiple of this "abnormal" printing, on the same watermarked paper used for later issues of the Queen Victoria 'sideface' issue.
The Kea and Kaka are both endangered and are the world's only alpine parrots. Kea are considered one of the most intelligent birds. They have been known to turn on water taps, set off stoat straps to get the eggs. The smaller Kaka are olive-brown in colour. They are nocturnal and very rarely seen.
BUY NOW: Order online, by phone +44 (0)1534 639 998, or via email info@paulfrasercollectibles.com
Payment & Security
Your payment information is processed securely. We do not store credit card details nor have access to your credit card information.