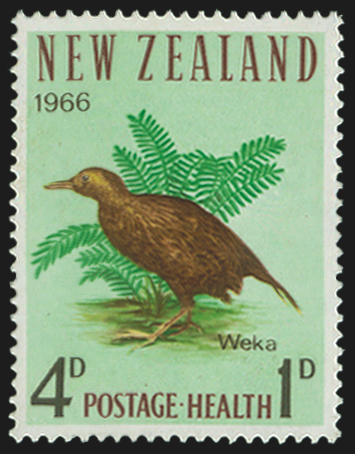 NEW ZEALAND 1966 Health 4d+1d "Weka Rail" variety, SG840w
New Zealand 1966 Health stamp bird series 4d+1d 'Weka Rail', variety watermark sideways inverted (star to right of NEW ZEALAND, as seen from back), SG840w.
Pristine unmounted mint example with full original gum.
A scarce watermark variety.
The health stamp issue featured well known forest birds - the Bellbird and Weka. The Weka was depicted against a background of ferns. The proceeds of the 'Health' value of health stamps were donated to the Children's Health Camps movement.
The Stanley Gibbons catalogue value is £120.
BUY NOW: Order online, by phone +44 (0)1534 639 998, or via email info@paulfrasercollectibles.com
Payment & Security
Your payment information is processed securely. We do not store credit card details nor have access to your credit card information.