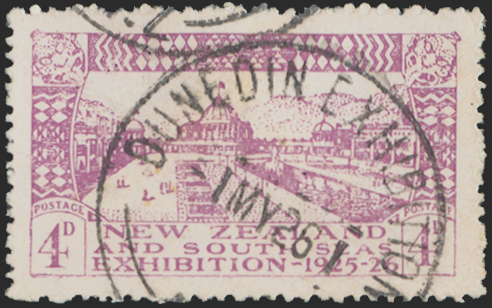 NEW ZEALAND 1925 4d mauve/pale mauve (USED), SG465a
New Zealand 1925 Dunedin Exhibition 4d mauve/pale mauve, SG465a, variety 'POSTAGF' (R1/2 and R10/1 on sheet of 60).
A fine used example of this very scarce variety, cancelled by large part 'DUNEDIN EXHIBITION' circular date stamp, dated '1 MY 26'. 
This stamp is much scarcer in used condition than mint.
The Stanley Gibbons catalogue value is £180.
Payment & Security
Your payment information is processed securely. We do not store credit card details nor have access to your credit card information.