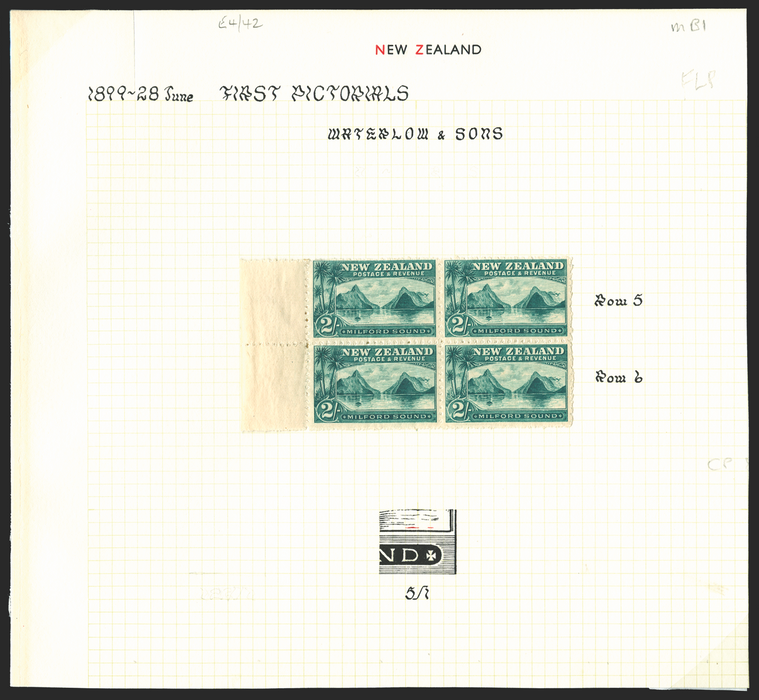 New Zealand 1899-1903 2s blue-green, SG269
New Zealand 1899-1903 2s blue-green, no watermark, perforations 11, left marginal block of 4 from R5/6/1-2, showing minor plate flaws, SG269.
A brilliant quality unmounted mint marginal block with full original gum (hinge mark in margin only). Typical perforations and centring, and left pair with slight wrinkles, still a lovely piece. Rare in this quality.
Provenance: Ex Michael Burberry, the recognised authority on varieties of the New Zealand pictorial stamps. Presented on part display page with enlarged drawing (and plating notes in pencil on reverse).
One of the most attractive designs from what was the first pictorial series from a major British colony. The design of Milford Sound is home to some of the most impressive waterfalls on earth.
It was customary at this time for the monarch's head to form the basis of most stamp designs. As such, this first pictorial definitive series, issued in 1898, caught the public's attention.
The designs stemmed from a public design competition launched in 1895, offering cash prizes for the best designs. This approach was to support the government policy of encouraging new settlers and promoting tourism at that time.
The superb engraved views of New Zealand's scenery, with Mountains and water proving the most popular subjects among the competition winners, captured the imagination of the Victorians at the time and have remained ever-popular with collectors as they were ground-breaking at the time.
The Campbell Paterson Catalogue value is NZ$7,000 (approx £3,600).
BUY NOW: Order online, by phone +44 (0)1534 639 998, or via email info@paulfrasercollectibles.com
Payment & Security
Your payment information is processed securely. We do not store credit card details nor have access to your credit card information.