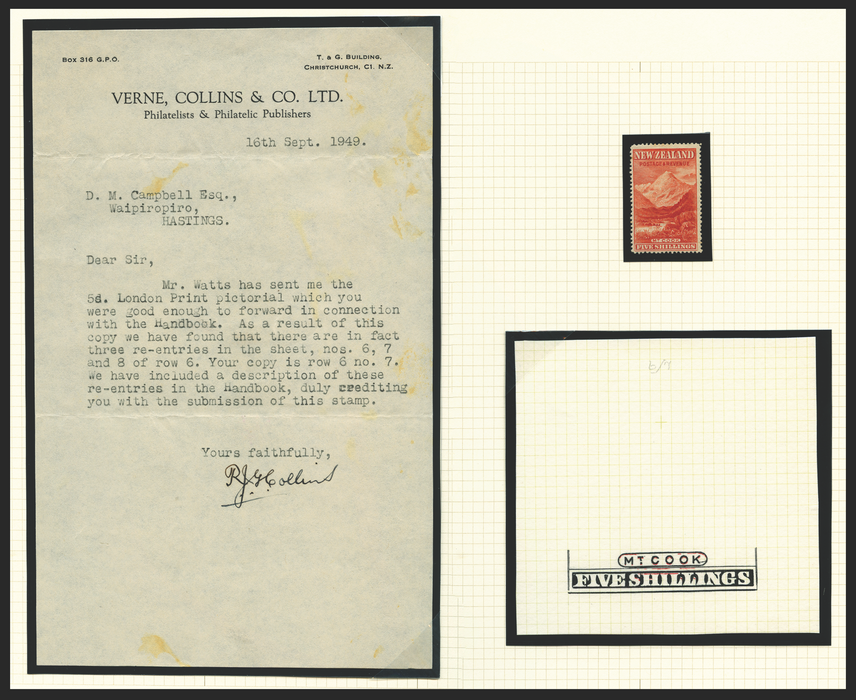 New Zealand 1898 5s vermilion variety, SG259var
New Zealand 1898 5s vermilion, Waterlow printing, exceptionally showing the R6/7 re-entry at the foot of the stamp, SG259var.
A fine mint example with large part original gum and lovely colour. A few faintly toned perforation tips barely worth a mention.
A key rarity, beautifully presented and with exceptional provenance.
Provenance: ex Michael Burberry, with his enlarged drawing, and accompanied by 1949 signed letter from R.J.G. Collins to its original owner, confirming its status as the "discovery" example.
These stamps represented the first pictorial series from a major British colony. It was customary at this time for the monarch's head to form the basis of most stamp designs. As such, this first pictorial definitive series, issued in 1898, caught the public's attention.
The designs stemmed from a public design competition launched in 1895, offering cash prizes for the best designs. This approach was to support the government policy of encouraging new settlers and promoting tourism at that time.
This stamp with the attractive design featuring Mount Cook was from the London printing. A year later, the decision was made to switch production of the stamps to Wellington.
The superb engraved views of New Zealand's scenery, with Mountains and water proved the most popular subjects among the competition winners. They captured the imagination of the Victorians at the time and have remained ever-popular with collectors as they were ground-breaking at the time.
A little piece of philatelic history!
Campbell Paterson catalogue number EV21a.
Payment & Security
Your payment information is processed securely. We do not store credit card details nor have access to your credit card information.