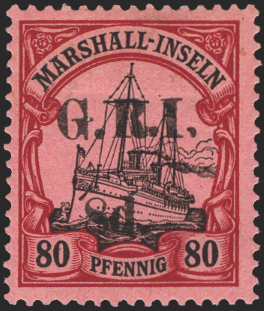 NEW GUINEA 1914 Marshall Is 8d on 80pf black and carmine/rose, SG58
New Guinea 1914 (16 Dec) Marshall Islands 8d on 80pf black and carmine/rose, 5mm space from setting XI position. 1, SG58.
A fresh mint example with large part original gum. Minor bends, which are barely noticeable and still of very fine appearance.
A rarity from this setting (rated by 'Peter Gibbs G.R.I.' p.274 at 10 x normal).
When the Australian Naval and Military Expeditionary Force occupied German New Guinea in 1914, it overprinted existing stocks of the German New Guinea Marshall Islands stamps with the initials "G.R.I." (Georgius Rex Imperator), referring to King George V. They were only used for a short period of time and are, therefore, very rare and most surviving examples have condition flaws.
Payment & Security
Your payment information is processed securely. We do not store credit card details nor have access to your credit card information.