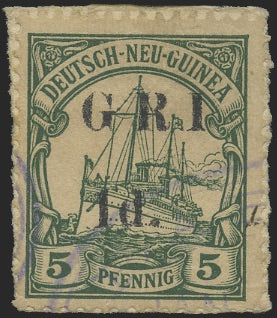 NEW GUINEA 1914-15 1d ON 5pf GREEN STOPS OMITTED, SG17ga
New Guinea 1914-15 1d on 5pf green, 5mm space from setting II, showing variety 'G.R.I.' WITHOUT STOPS BUT WITH NORMAL SPACES, SG17ga.
The stamp is tied to a small piece by two part strikes of RABAUL oval date stamps in violet (Gibbs type 8). A tiny mark exists in the right margin, mentioned purely for accuracy and immaterial to overall quality.
Exceptionally rare, being one of just two used examples known to Gibbs (with a single unused example in the Royal Philatelic Collection).
A fascinating printing variety and exceedingly scarce stamp.
It is accompanied with a British Philatelic Association certificate of authenticity (1991) and Royal Philatelic Society certificate of authenticity (1965), the latter as former SG 17b.
The Stanley Gibbons catalogue value is £11,000.
Payment & Security
Your payment information is processed securely. We do not store credit card details nor have access to your credit card information.