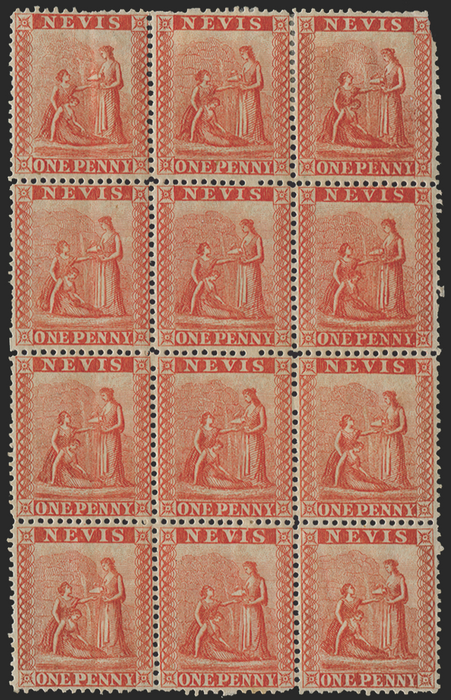 NEVIS 1867-76 1d pale red, SG9
Nevis 1867-76 1d pale red, recess printing on white paper, perforations 15, SG9.
A highly attractive mint SHEET OF TWELVE (3x4) without margins, with large part original gum and with lovely fresh colour (rows 2 and 3 unmounted). Minor imperfections, as to be expected of a multiple of this age and size, (first column with bend, slight separation at top, position 3 with corner fault). The minor faults to not detract from what is a most attractive and very scarce item.
A classic Victorian stamp design depicting the seal of the colony and showing women at a medicinal spring. As a volcanic island, Nevis enjoys hot springs at the village of Bath since the 18th century. The stamp shows two women taking advantage of the therapeutic spring water.
The Stanley Gibbons catalogue value is £780+.
BUY NOW: Order online, by phone +44 (0)1534 639 998, or via email info@paulfrasercollectibles.com
Payment & Security
Your payment information is processed securely. We do not store credit card details nor have access to your credit card information.