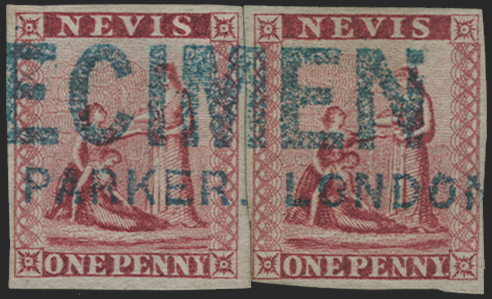 NEVIS 1862 1d imperforate proof in carmine-lake, SG1
Nevis 1862 1d imperforate proof in carmine-lake on thin wove, SG1.
A rejoined horizontal pair (positions 2-3 on the sheet), respectively with large and clear to large margins, with large part strike of the dramatic '(SP)ECIMEN/(NISSEN &) PARKER. LONDON' HANDSTAMP in blue, for use as printer's samples.
A very rare and important proof of the very first postage stamp issue from Nevis.
A classic Victorian stamp design depicting the seal of the colony and showing women at a medicinal spring. As a volcanic island, Nevis enjoys hot springs at the village of Bath since the 18th century. The stamp shows two women taking advantage of the therapeutic spring water.

Provenance: Not known to Samuel in 1976 (but mentioned in the 1984 supplement) although first recorded in 1869 (!) by E. L. Pemberton, on the basis of examples in the collection of Judge Philbrick.
BUY NOW: Order online, by phone +44 (0)1534 639 998, or via email info@paulfrasercollectibles.com
Payment & Security
Your payment information is processed securely. We do not store credit card details nor have access to your credit card information.