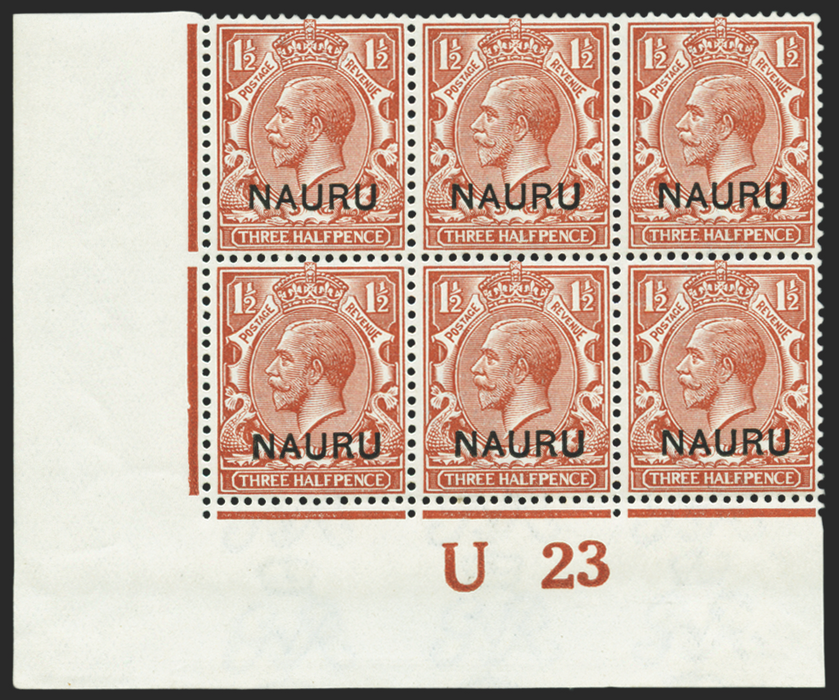 NAURU 1916-23 1½d red-brown, SG3
Nauru 1916-23 1½d red-brown, type 1 overprint, lower left corner 'U23' control block of six (3x2), imperforate margin, SG3.
A fine mint positional block with large part original gum. Four of the stamps are unmounted mint. The bottom right stamp has tiny tone speck on reverse, inconsequential as a very attractive positional multiple with very fresh colour.
Scarce in this form and quality.
Nauru was occupied by Australian forces following the outbreak of World War I. During this time, Australian stamps overprinted 'North West Pacific Islands' were used from 1914 to 1916. The British government took control of the island and British stamps were then overprinted 'NAURU' and were first issued in October 1916.
BUY NOW: Order online, by phone +44 (0)1534 639 998, or via email info@paulfrasercollectibles.com
Payment & Security
Your payment information is processed securely. We do not store credit card details nor have access to your credit card information.