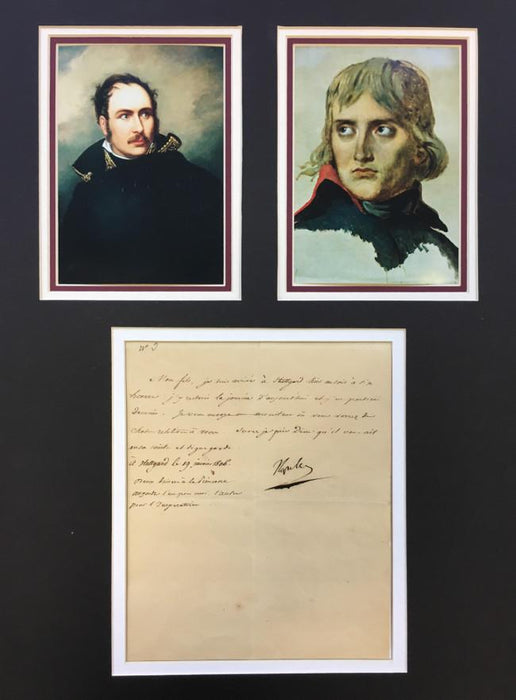 Napoleon Bonaparte signed letter
A signed Napoleon Bonaparte letter with superb content
Napoleon is one of history's most iconic figures. As emperor of France, his actions shaped Europe in the early 19th century. Following a successful coup d'etat in 1799, Napoleon went on to conquer much of Western and North Eastern Europe.
Defeat in Russia and at the Battle of Waterloo has diminished the stature of his achievements. However, Napoleon was key in establishing a legal framework used across much of Europe, based on Meritocracy, and his military strategy is still widely studied across the world.
When the Duke of Wellington was asked to name the greatest general of the day, he answered: "In this age, in past ages, in any age, Napoleon."
A rare letter from Napoleon to his stepson Eugene de Beuharnais, dated January 19, 1806 - five days after Eugene's marriage to Princess Augusta of Bavaria.
Displayed in a black backing with portraits of the two men. 
Napoleon is clearly delighted on Eugene's behalf. The letter reads (probably in a secretarial hand): "I arrived at Stuttgart yesterday evening at six, I will stay here today and leave tomorrow. I am sending you a Moniteur [Le Moniteur Universel – a Parisian newspaper] where you will see news about yourself.
"Two kisses to Princess Augusta, one for me, the other for the Empress [Josephine – Eugene's mother and Napoleon's wife]."
Napoleon signs "Napole", a rare shortened variant of his signature. 
Free global delivery. 28 day returns.  
Payment & Security
Your payment information is processed securely. We do not store credit card details nor have access to your credit card information.