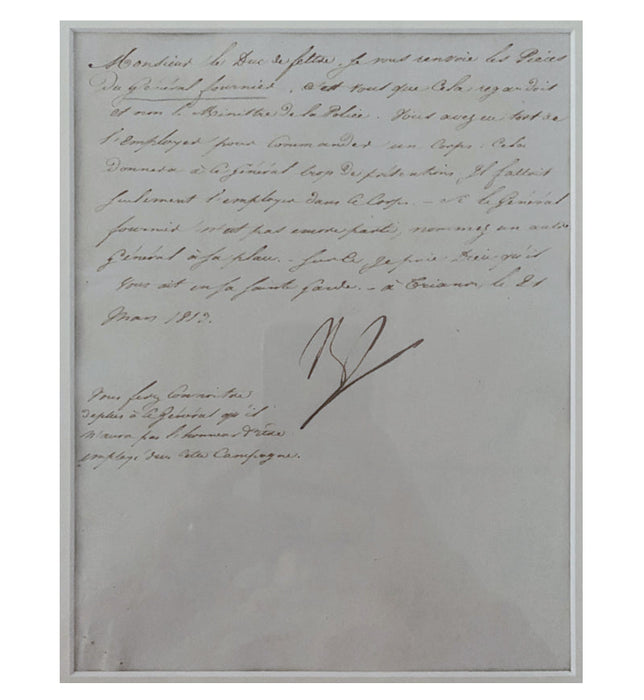 Napoleon Bonaparte signed letter
A superb single page letter signed by Napoleon on March 21, 1813.
With content regarding François Fournier-Sarlovèze, one of the most notorious figures in French military history.
Napoleon is one of history's most iconic figures. As emperor of France, his actions shaped Europe in the early 19th century.
Following a successful coup d'etat in 1799, Napoleon went on to conquer much of Western and North Eastern Europe.
Napoleon was key in establishing a legal framework used across much of Europe, based on meritocracy, and his military strategy is still widely studied across the world.
When the Duke of Wellington was asked to name the greatest general of the day, he answered: "In this age, in past ages, in any age, Napoleon."
A single-page letter measuring approximately 7" by 9".
In fine condition, with three small pinholes to the lower left corner.
Double mounted and professionally framed with a portrait of Napoleon, in a display measuring 20.75" x 18.5".
Dated March 21, 1813 and sent from Napoleon's residence at the Grand Trianon in Versailles to the Minister of War General Henri Clarke, Duc De Feltre.
It reads in full:
"Sir the Duke of Feltre, I am sending you the documents of General Fournier; it was you that was concerned and not the Minister of Police, you are wrong to use him to command a Corps.
"This will give this General too much pretension. In the end, he had to be employed within this Corps. If the provided General has not left yet, appoint another General instead. Finally, I pray to God that he has you in his holy keeping – at Trianon, the 21 March 1813.
"You will further inform this General that he will not have any more men employed in our campaign."
The letter is boldly signed by Napoleon beneath the text. 
The letter concerns the notorious French soldier François Fournier-Sarlovèze, a volatile General who was famous for his love of dueling.

In 1794 he began a personal battle with another French soldier, Pierre Dupont de l'Étang, in which the two men fought more than 30 duels over the course of 19 years.

This epic true story was later immortalised in Ridley Scott's classic 1977 film The Duelists.
A superbly signed and fascinating piece of Napoleonic history.
Click here to discover more about this item.
Free global shipping. 28-day returns. Certificate of Authenticity and our Lifetime Moneyback Guarantee of Authenticity included.
Payment & Security
Your payment information is processed securely. We do not store credit card details nor have access to your credit card information.