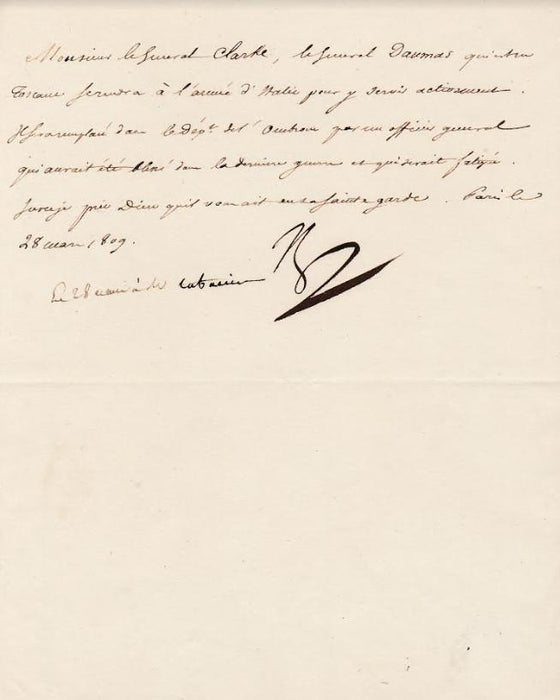 Napoleon Bonaparte signed letter
An astonishingly bold Napoleon "NP" signature
Signed on a 7.25 x 9 inch half-page letter to the Duke of Feltre, General Henri Clarke, on the morning of the Battle of Medellin (1809)
Napoleon is one of history's most iconic figures. As emperor of France, his actions shaped Europe in the early 19th century.
Following a successful coup d'etat in 1799, Napoleon went on to conquer much of Western and North Eastern Europe.
Napoleon was key in establishing a legal framework used across much of Europe, based on meritocracy, and his military strategy is still widely studied across the world.
When the Duke of Wellington was asked to name the greatest general of the day, he answered: "In this age, in past ages, in any age, Napoleon."
Napoleon Bonaparte signs here on March 28, 1809 – the day of the Battle of Medellín.
The clash took place as part of the broader Peninsular War (1807-1814) between France and Spain for control of Iberia. Napoleon's forces secured a decisive victory in the battle, losing just 1,000 men. The Spanish, by contrast, lost more than 10,000.
This note is addressed to the Duke of Feltre, General Henri Clarke (one of Napoleon's top aides) and orders a change of staff on the French army's Italian front.
The text (likely transcribed by a secretary) reads: "....Le général Daumas qui est en Toscane se rendra à l'armée d'Italie pour y servir activement. Il sera remplacé dans le département de l'Ombrone par un officier général qui aurait été blessé dans la demiére guerre et qui serait fatigué..."
That translates to: "...General Daumas who is in Tuscany will go to the Army of Italy to serve actively. He will be replaced in the department of Ombrone by a general officer who was wounded in the last war and who would be tired..."
The text next to Napoleon's signature reads "the 28 March by night", the date General Clarke received this letter. 
The signature itself is among the best we have ever seen. Napoleon signs with a flourish in black ink, with an unusually heavy underline.
Napoleon's autograph varies in size from day to day, depending on his mood. Given the breadth of this specimen, we can assume he was feeling supremely confident. If he feels any nerves about the upcoming battle, his autograph shows no trace of it.
This is a spectacular memento from one of the greatest military leaders in history - and a man who shaped the modern world.
Free global shipping. 28-day no quibble returns.
Payment & Security
Your payment information is processed securely. We do not store credit card details nor have access to your credit card information.