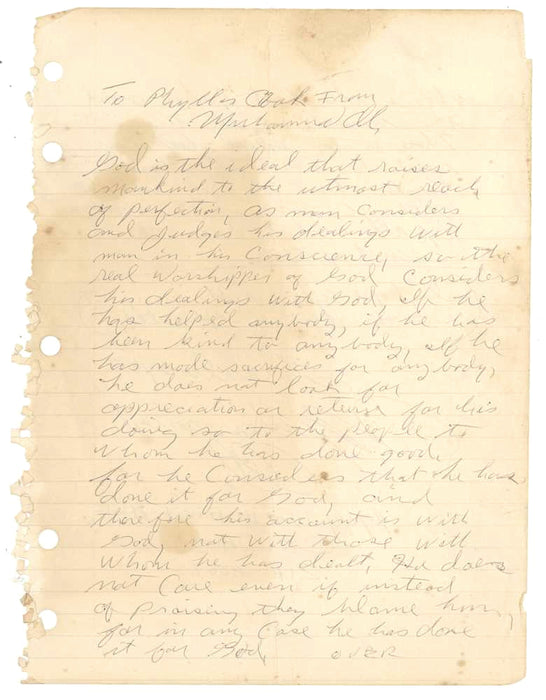 Muhammad Ali handwritten letter
A highly rare Muhammad Ali handwritten letter, circa 1968 - 1975
Twice signed, with content relating to his spiritual beliefs
Three time World Heavyweight boxing champion Muhammad Ali is one of the most iconic figures of the 20th century. Born Cassius Clay in a poor district of Louisville, Kentucky in 1942, he fought his way to the very top of the sport.
In the mid-1960s he converted to Islam and became a key figure in the civil rights movement. His refusal to fight in Vietnam in 1966 saw him stripped of his titles and banned from boxing. Four years later he made an astonishing comeback, eventually regaining the heavyweight title in 1974.
Ali retired from boxing in 1981 and devoted the rest of his life to humanitarian work. He died in June 2016.
A Muhammad Ali handwritten and twice-signed letter, dated circa 1968 - 75.

Signed during the most important period of his life, as he rose to prominence as a major figure in the Civil Rights movement, returned to boxing following years in exile and fought three of the most famous bouts in sporting history.
Written on both sides of a single sheet of lined paper, measuring approx. 26.5cm by 18cm.
Toning and wear consistent with age, with occasional fraying to margins.
This highly rare personal handwritten letter includes a quote from Hazrat Inayat Khan, a leading figure in Sufism - "the mystical expression of Islamic faith" - which Ali became interested in during the early 1970s.

The letter reads in full:
"To Phyllis Clark from Muhammad Ali,
""God is the ideal that raises mankind to the utmost reach of perfection. As man considers and judges his dealings with man in his conscience, so the real worshipper of God considers his dealings with God.
"If he has helped anybody, if he has been kind to anybody, if he has made sacrifices for anybody, he does not look for appreciation or return for his doing so to the people to whom he has done good; for he considers that he has done it for God, and therefore, his account is with God, not with those with whom he has dealt.
"He does not care even if instead of praising they blame him; for in any case he has done it for God, who is the best judge and the knower of all things. There is no ideal that can raise the moral standard higher than the God-ideal, although love is the root of all and God is the fruit of this.
"I hope you will recuperate to the best of health.
"Love always, Muhammad Ali."
Ali's second signature on the letter is a superb vintage example, large, bold and signed with a confident flourish.
Unusually, the letter also includes Ali's home address "4944 Woodlawn Avenue, Chicago".
He purchased the house in 1968 and owned it until the mid-1970s, which provides a time period for the undated letter.
The house was highly significant for Ali, as it was a block away from the home of his spiritual mentor Elijah Muhammad, leader of the Nation of Islam.
Click here to discover more about this letter.
Free global delivery. 28-day returns. Certificate of Authenticity and our Lifetime Moneyback Guarantee of Authenticity included. 
BUY NOW: Order online, by phone +44 (0)117 933 9500, or via email info@paulfrasercollectibles.com 
Payment & Security
Your payment information is processed securely. We do not store credit card details nor have access to your credit card information.