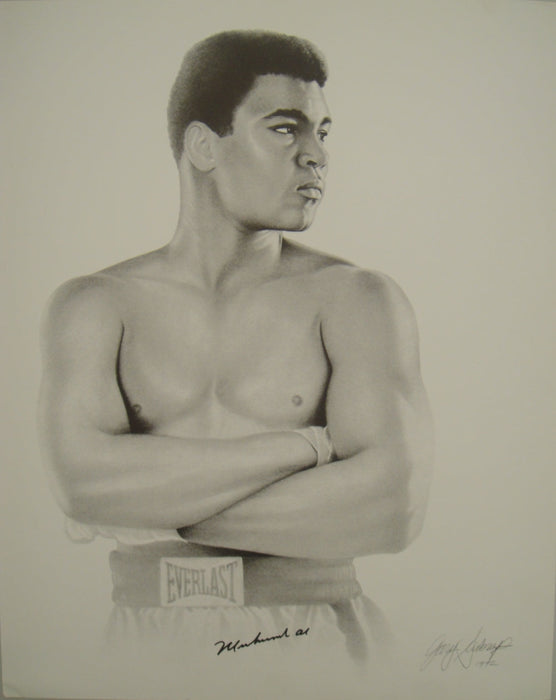 Muhammad Ali autograph on sketch
Muhammad Ali autograph on sketch by California portrait artist Gary Saderup
Three time World Heavyweight boxing champion Muhammad Ali is one of the most iconic figures of the 20th century. Born Cassius Clay in a poor district of Louisville, Kentucky in 1942, he fought his way to the very top of the sport.
In the mid-1960s he converted to Islam and became a key figure in the civil rights movement. His refusal to fight in Vietnam in 1966 saw him stripped of his titles and banned from boxing. Four years later he made an astonishing comeback, eventually regaining the heavyweight title in 1974.
Ali retired from boxing in 1981 and devoted the rest of his life to humanitarian work. He died in June 2016.
Muhammad Ali has beautifully signed this print by California portrait artist Gary Saderup. Ali signs in black pen – among the boldest Ali signatures you'll see. A striking image and beautiful signature from the greatest heavyweight of all time.
Saderup has signed the piece in pencil at the bottom right.
Free 28-day returns and free global delivery included.
Payment & Security
Your payment information is processed securely. We do not store credit card details nor have access to your credit card information.