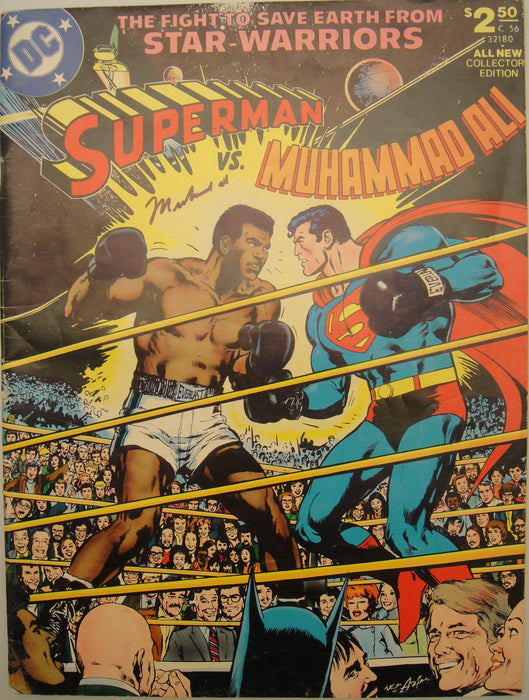 Muhammad Ali autograph on copy of Superman Vs Muhammad Ali
Copy of Superman Vs Muhammad Ali comic book featuring the autograph of Muhammad Ali
Three time World Heavyweight boxing champion Muhammad Ali is one of the most iconic figures of the 20th century. Born Cassius Clay in a poor district of Louisville, Kentucky in 1942, he fought his way to the very top of the sport.
In the mid-1960s he converted to Islam and became a key figure in the civil rights movement. His refusal to fight in Vietnam in 1966 saw him stripped of his titles and banned from boxing. Four years later he made an astonishing comeback, eventually regaining the heavyweight title in 1974.
Ali retired from boxing in 1981 and devoted the rest of his life to humanitarian work. He died in June 2016.
This is a 1978 DC comic book "Superman Vs Muhammad Ali," measuring 10" x 13.5".
In the 72 page story, Superman and Muhammad Ali compete against each other in a boxing match to prevent an alien invasion of Earth.
The comic book's cover shows Ali and Superman fighting in a boxing ring. They are surrounded by an audience which features many famous faces including musicians, actors, political and sporting figures, as well as DC and MAD magazine staff members. The names of the people featured on the cover are listed in the comic.
The cover features Muhammad Ali's autograph in bold black ink - a superb example of this most desirable signature. 
There are some scattered surface impressions and light creases but the comic book is otherwise in excellent condition and the autograph is unaffected.
A must-see for any boxing fan or comic book lover.
Free 28-day returns and free global delivery included.
Payment & Security
Your payment information is processed securely. We do not store credit card details nor have access to your credit card information.