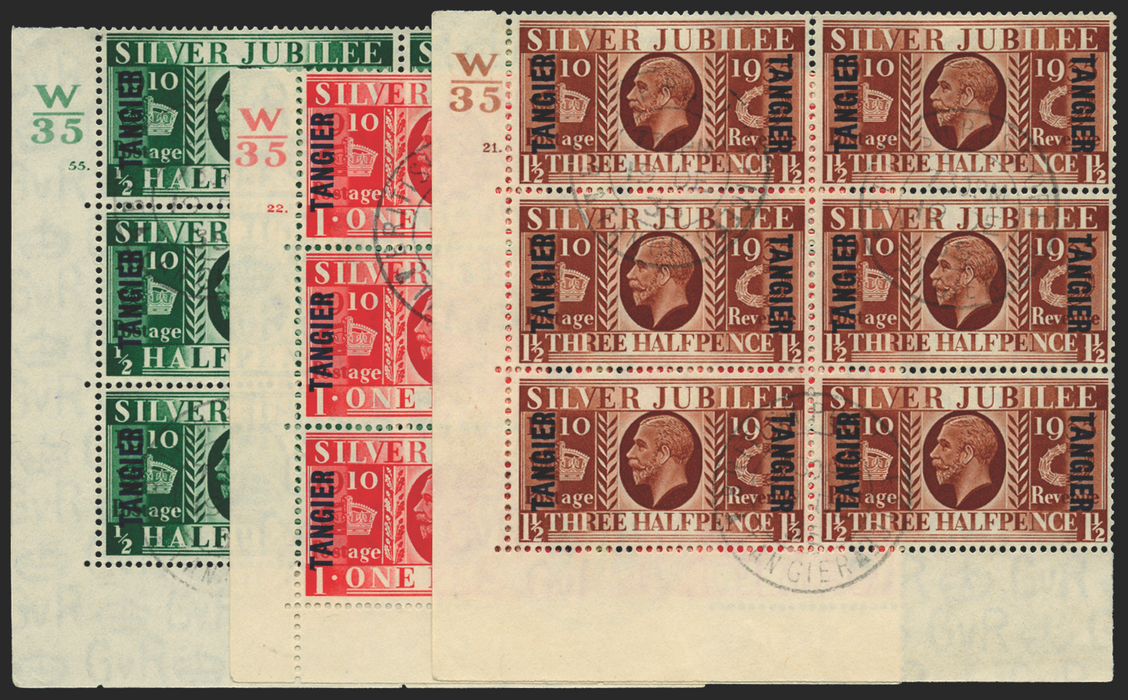 Morocco Agencies Tangier 1935 Silver Jubilee set of 3 to 1½d, SG238/40
Morocco Agencies Tangier 1935 Silver Jubilee set of 3 (½d green, 1d scarlet, 1½d red-brown), in matching lower left corner blocks of 6 (2x3) with "W35" control, respectively showing cylinder numbers "55", "22" and "21", SG238/40.
A very fine used set of positional blocks with TANGIER circular date stamps, dated "19 DE 35". A most attractive set of this very popular stamp issue overprinted "TANGIER".
An extremely scarce collection in this form and condition.
By an agreement between Great Britain, France and Spain, Tangier was declared an international zone in 1924. Initially, stamps were overprinted 'Morocco Agencies' or surcharged in Spanish currency. The Tangier International Zone received its own overprints beginning in 1927. As British currency was in use in that office, the overprint simply reads "TANGIER". This continued through until 1956.
BUY NOW: Order online, by phone +44 (0)1534 639 998, or via email info@paulfrasercollectibles.com
Payment & Security
Your payment information is processed securely. We do not store credit card details nor have access to your credit card information.