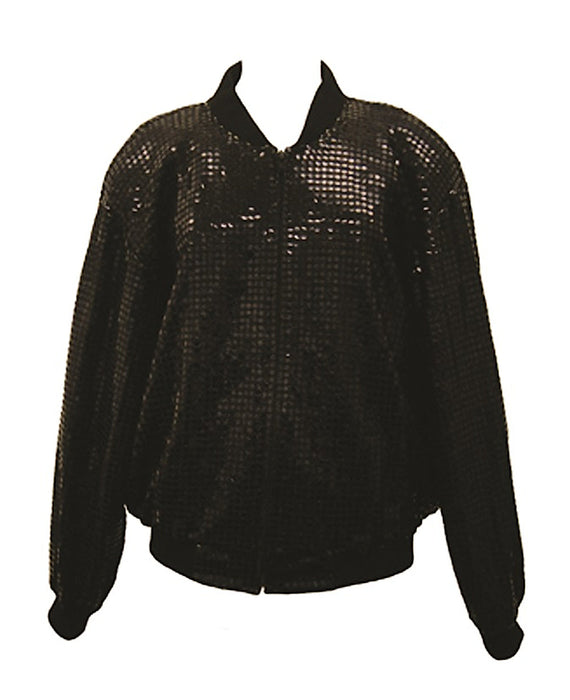 Michael Jackson owned and worn black sequined jacket
A black sequined jacket owned and worn by Michael Jackson
King of Pop, Michael Jackson (1958 - 2009) rose to fame in the 1960s as a member of The Jackson 5.
His solo career kicked off in the 1980s with hits such as Billie Jean and Beat It.
Michael Jackson holds several World Records including highest earning deceased artist, longest span of US top 40 singles and bestselling album of all time for 1982's Thriller.
This black, sequined, zip-up jacket was worn and owned by Michael Jackson in the mid 1980's.
It is similar to Jackson's 'black diamond' suitjacket that he wore Moonwalking through the "Motown 25th Anniversary Show" in 1983.
The jacket was sourced by Brian Murphy (the ex-buyer for the Hard Rock Cafe Group), and was originally obtained from Bill Bray, who was Michael's 24 hour a day confidant, dating back to his Jackson Five days.
The jacket is accompanied by the original documentation from the Nostalgia Shop at the MGM Grand Casino in Las Vegas, stating that the garment travelled the world with Michael Jackson on his tours as a solo artist.
Provenance: ex Stanley Gibbons.
Free global shipping. 28-day returns. Certificate of Authenticity and our Lifetime Moneyback Guarantee of Authenticity included.
BUY NOW: Order online, by phone +44 (0)1534 639 998, or via email info@paulfrasercollectibles.com
Payment & Security
Your payment information is processed securely. We do not store credit card details nor have access to your credit card information.