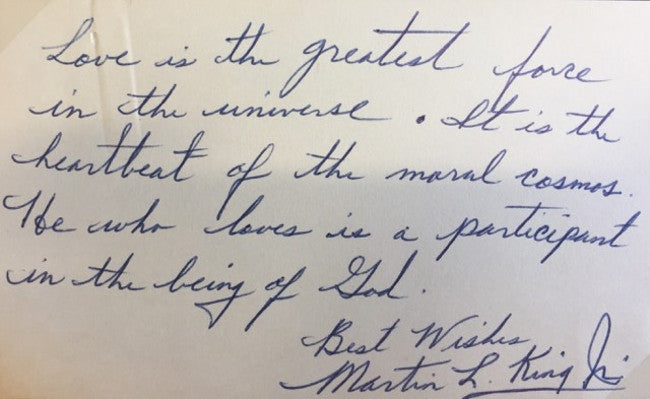 Martin Luther King Jr signed and inscribed card
An extraordinary Martin Luther King Jr signature
Accompanied by an inscription bearing an original quote
Georgia-born preacher Martin Luther King Jr was the de facto leader of the American Civil Rights Movement. He led the Montgomery Bus Boycott in 1955, the Birmingham Campaign (1963) and the March on Washington (1963). It was in the nation's capital he gave his iconic I Have a Dream speech. King was shot dead by a white supremacist in 1968. He continued to be a defining influence on the movement.
This is a 3 x 4.7 inch card bearing an inscription and signature from Martin Luther King Jr. It's dated May 13, 1957.
King writes: "Love is the greatest force in the universe. It is the heartbeat of the moral cosmos. He who loves is a participant in the being of god. Best wishes."
A variant of this quote appears in Paul's Letter to American Christians, a sermon King gave at the Dexter Avenue Baptist Church in Montgomery, Alabama in 1956. He said in that speech: "love is the most durable power in the world, and that it is at bottom the heartbeat of the moral cosmos. Only through achieving this love can you expect to matriculate into the university of eternal life."
Quality signatures from King are rare and increasingly in-demand. This is a specimen of tremendous power that highlights King's skill as a writer and orator.
The card is affixed to a backing, with a raised section to the top right that doesn't detract from its appeal. An original stamp from the Montgomery Improvement Association, the group that prefigured the Southern Christian Leadership Conference, accompanies the item. 
Free global delivery. 28-day returns. 
Payment & Security
Your payment information is processed securely. We do not store credit card details nor have access to your credit card information.