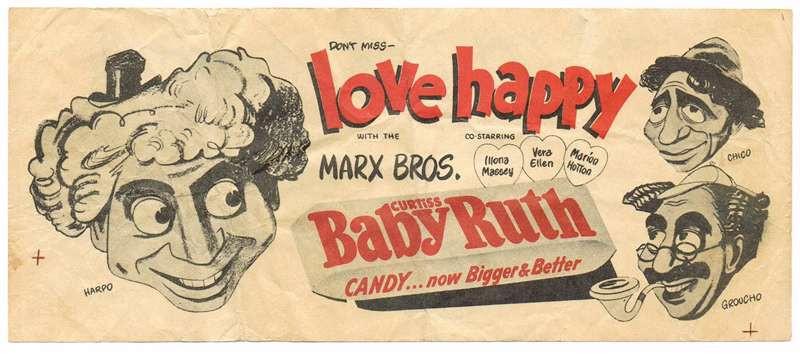 Marilyn Monroe Autograph on Advertising Slip
Advertising slip for the Marx Brothers' Love Happy (1949), signed by star Marilyn Monroe
Additionally signed by Harpo Marx's stunt double
Marilyn Monroe (1926-1962) needs little introduction. An actress, model and entertainer, she is perhaps the most recognisable of all screen icons.
As such, her memorabilia is highly sought after, and continues to be widely collected across the world.
Monroe's sex appeal was legendary. In 1949, it landed her a role in the Marx Brothers' film, Love Happy.
Groucho Marx recounts that while casting for the film, he asked three aspiring actresses to walk past him in a seductive manner. Monroe was the obvious winner. 
The page is also autographed by Harpo Marx's film double.
Both signatures were obtained in the lobby of the State Theatre in Rockford, Illinois. Some light wrinkling, creasing and toning, otherwise in fine condition. 
Free global shipping. 28-day returns. Certificate of Authenticity and our Lifetime Moneyback Guarantee of Authenticity included. 
Payment & Security
Your payment information is processed securely. We do not store credit card details nor have access to your credit card information.