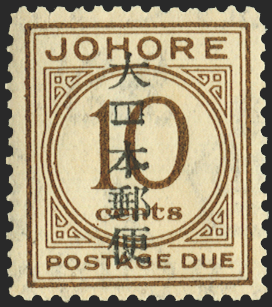 MALAYA JAPANESE OCCUPATION 1943 Johore Postage Due 10c brown, SGJD9a
Malaya Japanese Occupation 1943 Johore Postage Due 10c brown, type 2 'Kanji' overprint showing variety 'Second character sideways' (R6/3), SGJD9a.
A splendid unmounted mint example with full original gum. Some gum toning as is often the case with stamps from this part of the world, although still of fine fresh appearance.
An extremely scarce and curious variety.
Malaya was gradually occupied by the Japanese between 8 December 1941 and the Allied surrender at Singapore on 16 February 1942. The Japanese remained in occupation until their surrender to the Allies in 1945.
The postal service in Johore was reconstituted in mid-April 1942. These overprinted stamps were only used for fiscal purposes. Overprinted Johore postage due stamps were not issued for use elsewhere in Malaya.
The Stanley Gibbons catalogue value is £450.
BUY NOW: Order online, by phone +44 (0)1534 639 998, or via email info@paulfrasercollectibles.com
Payment & Security
Your payment information is processed securely. We do not store credit card details nor have access to your credit card information.