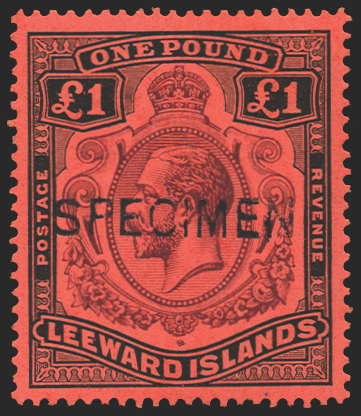 Leeward Islands 1921-32 £1 black/red Specimen variety, SG80a
Leeward Islands 1921-32 £1 black/red, local "SPECIMEN" overprint (type LI1), exceptionally showing variety "Break in scroll" (R1/12), SG80a.
A brilliant mint specimen example with original gum. Stunning quality and a handsome King George V stamp.
It is almost certainly unique with the variety overprinted 'SPECIMEN'.
"SPECIMEN" examples were used solely by postal administrations for reference purposes to help spot any attempted forgeries. The concept of a variety in specimen form is almost unheard of.
Despite its unique status, it is available at only a small fraction above the Stanley Gibbons listed catalogue value for the variety alone of £550.
BUY NOW: Order online, by phone +44 (0)1534 639 998, or via email info@paulfrasercollectibles.com
Payment & Security
Your payment information is processed securely. We do not store credit card details nor have access to your credit card information.