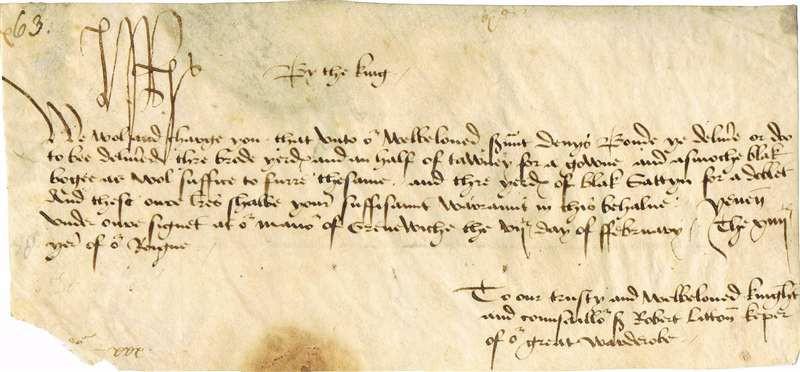 King Henry VII Autographed Historical Document
Clearly signed "HR" by King Henry VII - the first monarch of the House of Tudor
Dated 1499 and addressed to Sir Robert Lytton, Keeper of the Great Wardrobe
Very good condition for age - document is over 500 years old
Henry VII became King of England and Lord of Ireland on August 22, 1485, after he defeated King Richard III at the famed Battle of Bosworth Field. He is the last English king to win his throne on the battlefield.

Uniting the House of Plantagenet's rival houses, the House of Lancaster and the House of York, he founded the Tudor dynasty, which would rule over England until 1603.
His reign is characterised by the restoration of stability to the English monarchy after the upheavals of the War of the Roses and before, the Hundred Years War.
However, his final years were marked by financial scandal that left many in England indebted to the throne, a scandal which was only revealed after his death in 1509.
After a 23 year reign, the throne was passed to his son - the charismatic Henry VIII.
A history of this document
This extremely rare signed document features Henry VII's clear and flourishing "H R" autograph. It is addressed to Sir Robert Lytton, Keeper of the Great Wardrobe.
The document orders Sir Lytton to deliver to Denys Bonde: "thre brode yerds and an half of tawney for a gowne, and asmoche blak bogee as wol suffice to furre the same. and thre yerds of blak sattyn for a doblet".
The piece, which measures 7.7" x 3.5", is accompanied by a full translation of the letter which reads as follows:

"We wol and charge you that vato our Welbeloued seruant denys Bonde ye deliuer or doe (cause - omitted) to bee deliuered thre brode yerds and an half of tawney for a gowne, and asmoche blak bogee as wol suffice to furre the same, and thre yerds of blak sattyn for a doblet and these our letteres shalbe your suffisuant Warraunt in this behalue. yeuen vader oure signet at our manor of Grenewiche the viith day of ffebruary The xiiiith yere of our Reigne.
"To our trusty and welbeloued knight and counsaillour sir Robert Litton, keper of our great warderobe"
The Great Wardrobe employed a range of craftsmen who lived and worked in the city.
The holders of the key posts, such as the king's tailor and the king's skinner, were often leading members of their respective livery companies and they were at the centre of a network of other tailors, embroiderers, skinners and tapestry weavers who were employed on a more adhoc basis.
Condition

As is common of documents from this time, the page contains a small area of paper loss towards the bottom left corner and slight stain to the lower edge, however, this does not affect the text or the signature.

Rarity

Few documents have survived the 500+ years since Henry VII's reign and it is incredibly rare to find one in such good condition.

A highly desirable piece, well preserved documents from England's early monarchs are scarce on the market, with most now housed in institutional collection.
Click here to discover more about this rare item.
Free global shipping. 28-day returns. Certificate of Authenticity and our Lifetime Moneyback Guarantee of Authenticity included
BUY NOW: Order online, by phone +44 (0)1534 639 998, or via email info@paulfrasercollectibles.com
Payment & Security
Your payment information is processed securely. We do not store credit card details nor have access to your credit card information.