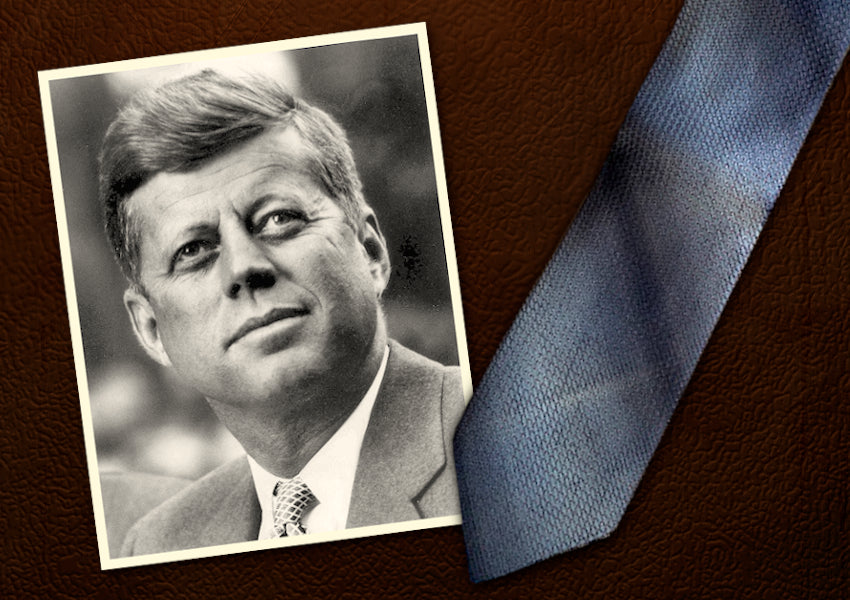 John F. Kennedy owned and worn silk neck tie
A silk neck tie owned and worn by U.S President John F. Kennedy
John F. Kennedy (1917 - 1963) was the 35th President of the United States of America from 1961 until 1963 when he was tragically assassinated in Dallas, Texas.
A charismatic leader, he is one of the most beloved presidents in US history, and his memorabilia is among the best selling of any former president.
A John F. Kennedy personally owned and worn silk neck tie, made by A. Sulka and Company, which features a red dot pattern on a navy blue and silver background.
The tie was obtained by Robert Morey who first met Kennedy while he was a freshman congressman.
He formed a close relationship with Kennedy which lasted throughout his election as President. Urged by Kennedy to move to Washington, Morey declined and took a position as a US Marshall in Massachusetts.
Morey acquired the tie during the hectic travels through Massachusetts in the late 1950's, with speeches and campaign stops throughout the region.
In very good condition.
A fantastic piece of memorabilia from the former President's personal wardrobe.
Provenance: ex Stanley Gibbons.
Click here to discover more about this item
Free global shipping. 28-day no quibble returns. Certificate of Authenticity and our Lifetime Moneyback Guarantee of Authenticity included.
BUY NOW: Order online, by phone +44 (0)1534 639 998, or via email info@paulfrasercollectibles.com
Payment & Security
Your payment information is processed securely. We do not store credit card details nor have access to your credit card information.