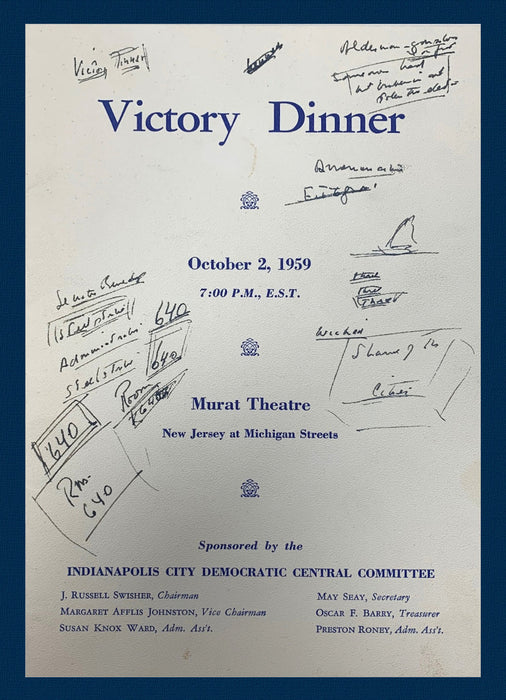 John F. Kennedy sailboat sketch and doodles on a 1959 campaign programme
A John F. Kennedy campaign dinner programme, featuring his doodles and a sailboat sketch
Dated October 2, 1959
John F. Kennedy (1917 - 1963) was the 35th President of the United States of America from 1961 until 1963 when he was tragically assassinated in Dallas, Texas.

A charismatic leader, he is one of the most beloved presidents in US history, and his memorabilia is among the best selling of any former president.
An original programme for a Democratic campaign dinner held at the Murat Theatre in Indianapolis on October 2, 1959.
Kennedy attended the event as he campaigned for the Democratic nomination for President, and gave the main speech of the evening.
During the event John. F Kennedy inscribed his personal copy of the programme with notes, sketches and doodles.
The programme measures approximately 6" by 9".
With minor surface marks to the cover, otherwise in good condition.
Kennedy's doodles and notations are written in black ink, and include:
"Victory Dinner . . . Alderman gave the . . . a few . . . . Someone had but broken in and stolen the election . . . Rm. 640".
The programme also includes a hand-drawn sailboat - Kennedy's most famous doodle, which he drew throughout his life.
They represent his lifelong love affair with sailing and the ocean.

And he always sketched his favourite boat the Victura, a 25-foot sloop given to him by his parents in 1932 on his 15th birthday.
Accompanying the piece is a letter from the Kennedy Library Curator Dave Powers regarding the events of the dinner. Dated 1988.
A unique piece of vintage political memorabilia featuring one of JFK's iconic sailboat sketches.
Click here to discover more about this item.
Lifetime Moneyback Guarantee of Authenticity. Free global delivery. 28-day no-quibble returns. Certificate of Authenticity.
BUY NOW: Order online, by phone +44 (0)117 933 9500, or via email info@paulfrasercollectibles.com
Payment & Security
Your payment information is processed securely. We do not store credit card details nor have access to your credit card information.