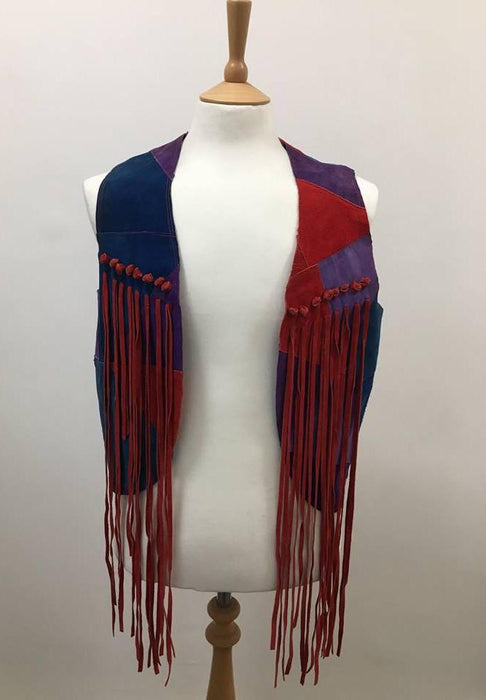 Jimi Hendrix owned and worn suede patchwork vest
A spectacular multicoloured patchwork fringe suede vest owned and worn by Jimi Hendrix
Includes letters of provenance from Hendrix's former tour manager Tom Hullett and his father, Al Hendrix
Jimi Hendrix (1942-1970) is one of the most important musicians of the 20th century, regarded by many as the greatest guitarist of all time. Described by the Rock and Roll Hall of Fame as "arguably the greatest instrumentalist in the history of rock music", Hendrix's music continues to influence generations of musicians almost 50 years after it was recorded.
He became one of the most famous figures of the 1960s counterculture movement, and his performance of The Star Spangled Banner at Woodstock remains one of the most defining moments in American pop culture history. In addition to his skills as a musician and songwriter, Hendrix also became known for his colourful style, which perfectly captured the flamboyant spirit and energy of the late 1960s.
This Jimi Hendrix worn suede vest is a classic example of his distinctive style. Its bold colours and arresting tassels transport you straight to the mid-1960s, when Jimi was the biggest countercultural figure on the planet.
The piece has exceptional provenance. It's accompanied by a letter from Tom Hulett, Hendrix's former concert manager. Hulett states he received it as a gift from Al Hendrix in 1991. A letter from Al Hendrix, dated May 1981, explains that Jimi owned and wore the item many times.
Free global delivery. 28-day returns.
Payment & Security
Your payment information is processed securely. We do not store credit card details nor have access to your credit card information.