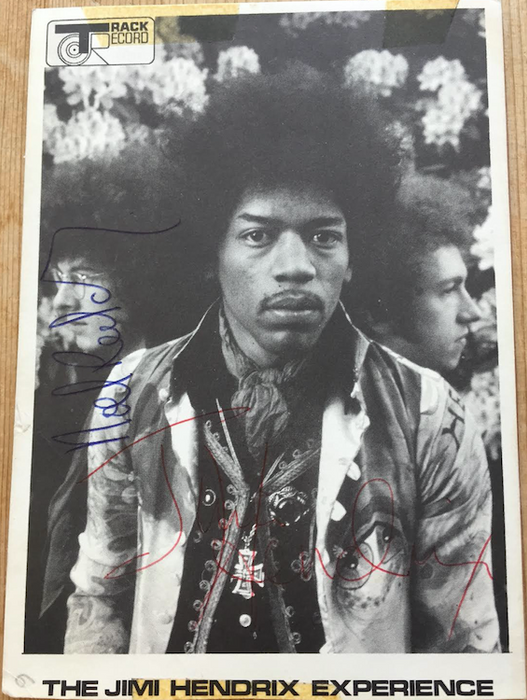 Jimi Hendrix Experience signed promo card
A rare promotional card for Are You Experienced signed by Jimi Hendrix and Noel Redding

 
Jimi Hendrix (1942-1970) is one of the most important musicians of the 20th century, regarded by many as the greatest guitarist of all time. 
Described by the Rock and Roll Hall of Fame as "arguably the greatest instrumentalist in the history of rock music", Hendrix's music continues to influence generations of musicians almost 50 years after it was recorded. 
He became one of the most famous figures of the 1960s counterculture movement, and his performance of The Star Spangled Banner at Woodstock remains one of the most defining moments in American pop culture history. 
In addition to his skills as a musician and songwriter, Hendrix also became known for his colourful style, which perfectly captured the flamboyant spirit and energy of the late 1960s. 
Today Jimi Hendrix memorabilia is amongst the most sought-after by music fans and collectors around the world, with his instruments, clothing and signed artifacts regularly selling for huge sums at auction. 
This fine promotional card bears signatures from two members of the Jimi Hendrix Experience; bassist Noel Redding and Jimi Hendrix himself.  
Signatures from the band are rare. They were together for less than three years between 1966 and 1969, before splitting acrimoniously. During hat time, they released three of the most influential albums in rock history.  
Free global shipping. 28-day returns. Certificate of Authenticity and our Lifetime Moneyback Guarantee of Authenticity included. 
Payment & Security
Your payment information is processed securely. We do not store credit card details nor have access to your credit card information.