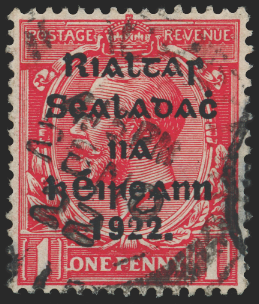 IRELAND 1922 1d scarlet variety, SG31b
Ireland 1922 1d scarlet, type 2 Thom overprint in blue-black, variety Reversed 'Q' for 'O' (R15/9), SG31b.
A fine used example by large part '26 NO 22' circular date stamp. One shortish perforation doesn't detract from what is a very good example.
A very scarce variety.
The Stanley Gibbons catalogue value is £275.

BUY NOW: Order online, by phone +44 (0)1534 639 998, or via email info@paulfrasercollectibles.com
Payment & Security
Your payment information is processed securely. We do not store credit card details nor have access to your credit card information.