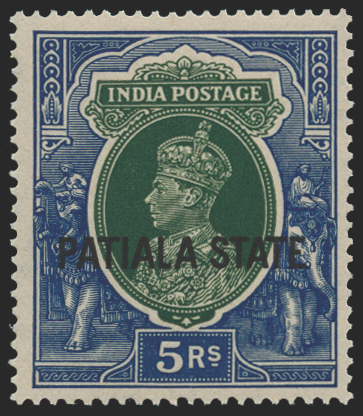 I.C.S. PATIALA 1937-38 5r green and blue, SG94
Indian Convention States Patiala 1937-38 5r green and blue, 'PATIALA STATE', SG94.
A quite remarkable unmounted mint example with full original gum.
A handsome King George VI stamp.
Six states had a postal convention agreement with "British India" to use the regular issues of British India overprinted for use in their states. These "Convention" states are Chamba, Faridkot, Gwalior, Jind, Nabha, and Patiala.
Payment & Security
Your payment information is processed securely. We do not store credit card details nor have access to your credit card information.