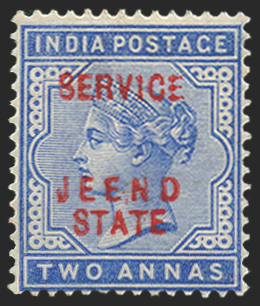 I.C.S. JIND 1885 2a dull blue Official, SGO9
Indian Convention States Jind 1885 2a dull blue 'JEEND' Official, SGO9.
A fine mint example with large part original gum and with fresh colour. One shortish perforation, which does not detract from such fine quality.
A rare early Indian States Government Official stamp as only 720 were originally printed.
The Stanley Gibbons catalogue value is £150.
Payment & Security
Your payment information is processed securely. We do not store credit card details nor have access to your credit card information.