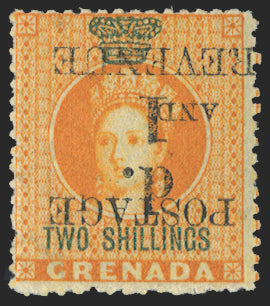 GRENADA 1888-91 1d on 2s orange error, SG44a
Grenada 1888-91 1d on 2s orange, type 18 surcharge, ERROR SURCHARGE INVERTED, SG44a.
A fresh and fine mint example with original gum. Choice quality for this rare error.
Provenance: Ex Dale-Lichtenstein.
Accompanied with a Philatelic Foundation (PF), New York certificate of authenticity (1990) as Scott No. 34a.
The Chalon Head stamps are considered one of the most beautiful stamp designs from the Victorian era. The design is based on the 1838 painting of the young Queen Victoria by Alfred Chalon.
Undenominated revenue stamps of Grenada featuring the Chalon Head design were used from 1875 and surcharged with a value and a "POSTAGE" overprint making them valid for regular postage. These were used until 1891.
BUY NOW: Order online, by phone +44 (0)1534 639 998, or via email info@paulfrasercollectibles.com
Payment & Security
Your payment information is processed securely. We do not store credit card details nor have access to your credit card information.