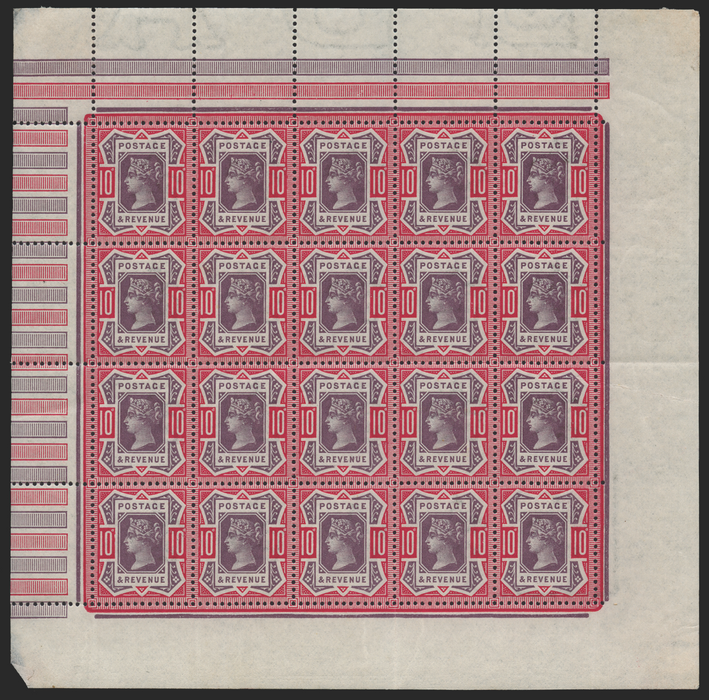 Great Britain 1890 10d dull purple & scarlet "Jubilee", SG210b
Great Britain 1890 10d dull purple & scarlet "Queen Victoria Jubilee Issue", SG210b.
Very fine and fresh unmounted mint, with full original gum, complete pane of twenty with full selvedge from marginal setting 2A, horizontal lined blocks and marginal rules with head plate rules cut away at corners. Taken from the left hand side of the 320 mill sheet, Pane H.
A wonderful complete pane of this difficult shade of the stamp issued during the year of time of the Golden Jubilee of the reign of Queen Victoria, and not seen on the market for over fifteen years. An exhibition quality key rarity of the Queen Victoria Jubilee issues.
GB Specialised Catalogue No: K39(3).
Provenance: Ex. "Aureum Collection of Great Britain Queen Victoria Jubilee Issue Stamps".
The Stanley Gibbons catalogue value is £3,400+.
BUY NOW: Order online, by phone +44 (0)1534 639 998, or via email info@paulfrasercollectibles.com
Payment & Security
Your payment information is processed securely. We do not store credit card details nor have access to your credit card information.