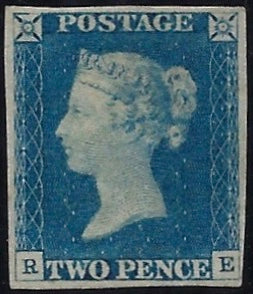 Great Britain 1840 2d Blue Plate 1, SG5 Plate 1
Great Britain 1840 2d Blue, Plate 1, SG5.
A very fine and fresh unused large part original gum example lettered RE from the first printing plate of one of the world's first two postage stamps. The two penny blue is 10 times rarer than the penny black.
Despite the thin margin on the bottom right of the stamp, it is very scarce in such fine condition, particularly benefiting from wonderful colour.
The SG catalogue price is £38,000.
Payment & Security
Your payment information is processed securely. We do not store credit card details nor have access to your credit card information.