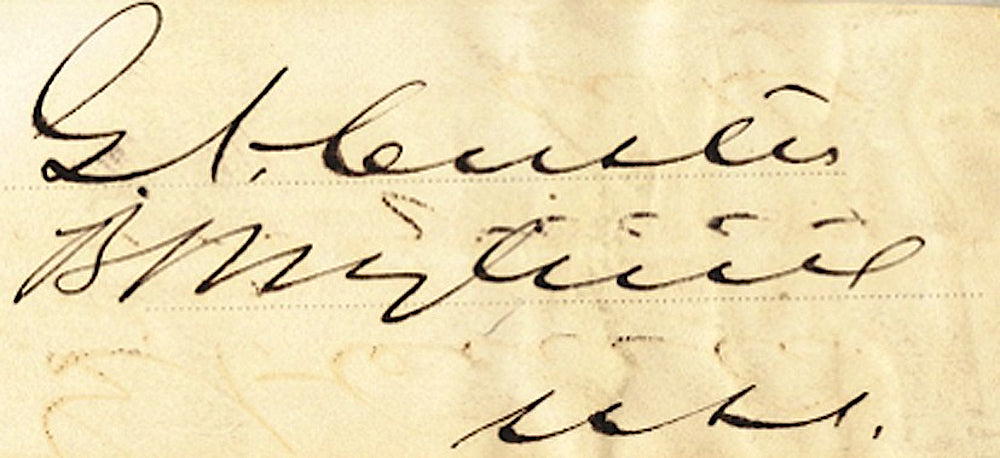 General George Custer autograph
Dutch Auction Day 3 Price: £3196.00
Dutch Auction Day 2 Price: £3596.00
Dutch Auction Starting Price: £3995.00
A superb historic signature from General George Custer
George Armstrong Custer (1839-1876) was a United States Army officer and cavalry commander in the American Civil War and the Indian Wars.
Today he is most remembered for leading his army into the disastrous Battle of the Little Bighorn during the Great Sioux War of 1876-1877.
Custer and two of his brothers were killed during the battle, which today is known as 'Custer's Last Stand'.

A clipped signature, most likely from a letter, 3.5 x 1.5 inches, with remnants of a previous mount on the back, signed "G.A. Custer".
Provenance: ex Stanley Gibbons.
Click here to discover more about this item
Free global delivery. 28-day returns. Certificate of Authenticity and our Lifetime Moneyback Guarantee of Authenticity included
BUY NOW: Order online, by phone +44 (0)1534 639 998, or via email info@paulfrasercollectibles.com
Payment & Security
Your payment information is processed securely. We do not store credit card details nor have access to your credit card information.