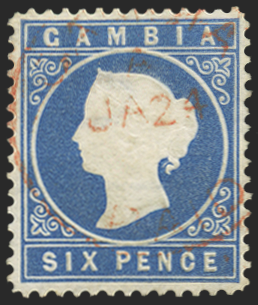 Gambia 1880-81 6d blue, SG18A
Gambia 1880-81 6d blue, watermark CC (sideways), SG18A.
A fine used example with large part red "GAMBIA/PAID" circular date stamp.
The first stamps issued for the West African colony of Gambia are noted for their simple but effective design. They were printed from 1869 by the London printers, De La Rue & Co.
The coloured background was typographed first, showing the name 'Gambia' in white letters at the top and the value in words in a matching panel at the bottom. A profile head of Queen Victoria was then embossed in white on it. This gave a cameo effect, similar to a brooch, and the stamps are known informally as the Cameos.
The Stanley Gibbons catalogue value is £110.
Payment & Security
Your payment information is processed securely. We do not store credit card details nor have access to your credit card information.