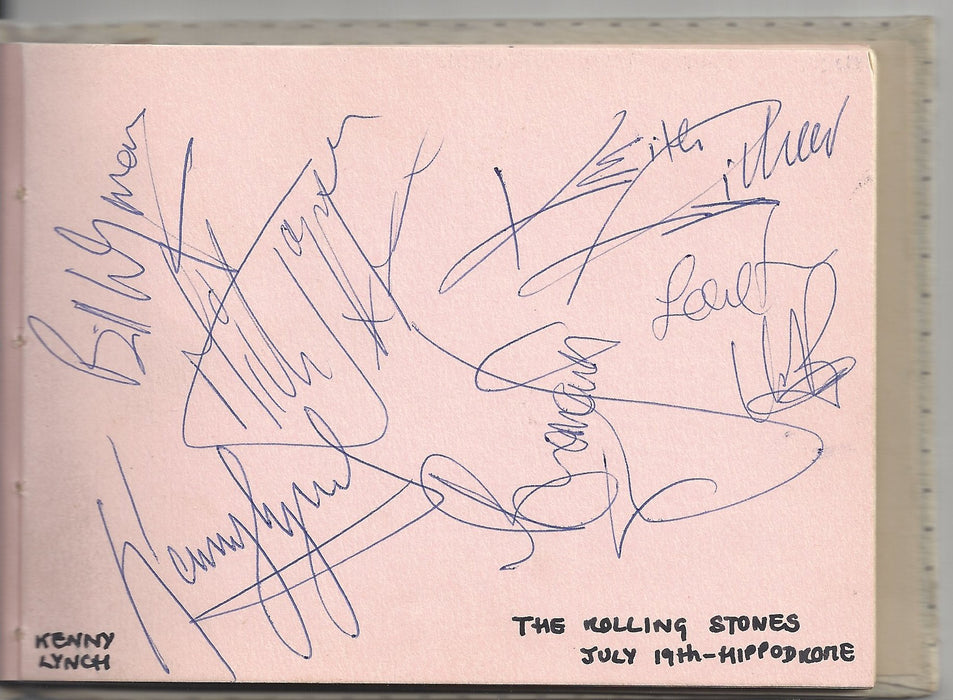 Full set of Rolling Stones autographs from 1964, including Brian Jones
A superb full set of 1964 Rolling Stones signatures (Brian Jones, Mick Jagger, Keith Richards, Bill Wyman and Charlie Watts) on a single page of an autograph book.
The Rolling Stones are the world's biggest band and have defined the image of the "rock star". They have enjoyed eight UK #1s and continue to sell out tours around the world.  
The five Stones all signed the single page of the autograph book backstage at the Brighton Hippodrome before their concert there on Sunday July 19, 1964. That's just seven days after the Stones had their first #1 single with It's All Over Now.
Finding all five original members' signatures together is a rare feat – especially of this high quality.
The Stones were there to headline a bill that included Kenny Lynch, who has also signed the page.
The autographs were collected in person by the book's owner, a teenage journalist for amateur magazine Teen Topics. The collection comes directly from her. She has also supplied a detailed letter of authenticity.
The 5.75 x 4.25 inch autograph book is in fair condition. The Stones signatures and the page are in very good condition.
The autograph album also includes signatures from other big 1960s acts including the Hollies, Gerry and the Pacemakers, Manfred Mann and the Nashville Teens.
There is also the notable signature of "Beatle" Jimmie Nicol. He signed the autograph book on July 12, 1964, just a month after his celebrated two week stint filling in with the Beatles for a tonsillitis-ridden Ringo.
This album captures the excitement of it was to be a Stones fan, and a music fan, in 1964.  
Free global delivery. 28-day returns.  
Payment & Security
Your payment information is processed securely. We do not store credit card details nor have access to your credit card information.