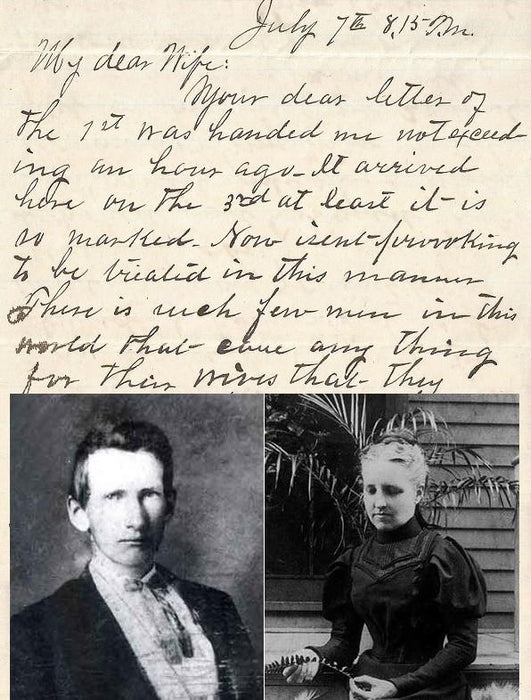 Outlaw Frank James handwritten letter
A touching handwritten love letter by one of the most legendary outlaws of the Old West, Frank James
Find out more about this item here
Frank James (1843 – 1915) was a U.S Civil War Confederate guerrilla and notorious Old West outlaw.
Together with his younger brother Jesse James, he helped established the James-Younger Gang, which robbed banks, trains, and stagecoaches throughout the southern states.
The gang cultivated a reputation as folk heroes, with help from the editor of the Kansas City Times, who published Jesse James' letters and proclaimed him to be a modern-day Robin Hood.
The gang's spree of robberies and murder lasted from 1866 until 1876, when several members were killed or captured during a disastrous raid on the First National Bank of Northfield, Minnesota.
Frank James retired from his life of crime soon after, but his brother Jesse struggled to adapt to normal life, and formed a new gang which continued to operate for several years.
Following the murder of Jesse by fellow gang member Robert Ford in 1882, Frank James feared for his own life and surrendered to the authorities, stating:
"I have been hunted for twenty-one years, have literally lived in the saddle, have never known a day of perfect peace. It was one long, anxious, inexorable, eternal vigil."
He was tried for his roles in two robberies/murders in Missouri and Alabama, and was acquitted in both cases, before returning to Oklahoma to live with his family.
For the next 30 years Frank James held a variety of jobs, including a shoe salesman, an AT&T telegraph operator and even a ticket taker in a burlesque theatre.
He also gave public lectures on the Old West, invested in Buckskin Bill's Wild West Show, and gave tours of the James family farm, where he eventually passed away in 1915 at the age of 72.
Frank James and Ann Ralston
The story of how Frank James first met Ann Ralston remains somewhat of a mystery.
She was the highly-educated daughter of a wealthy businessman, and was working as a teacher when she suddenly eloped with James in the summer of 1875.
Her parents received a letter which read simply "Dear Mother: I am married and going West. Annie Reynolds", and were distraught at her disappearance.
It wasn't until several months later that they discovered their new son-in-law was one of the country's most wanted men.
In 1876 Ann's father arranged for a New York newspaper article about the marriage, to ensure his family was not linked to the criminal gang
"The James brothers, who are, with the Younger boys, creating so much stir just now, have had a love scrape, or at least one of them has. But this love affair is different from all other love affairs. No one who knows anything of the career of the James brothers would expect them to woo, win and marry like other people...
"Mr. Ralston has had no connection or communication with the train robbers whatever. His daughter he has not seen since she left home, a year and one month ago.
"If she is alive she will not write home, lest her letters should guide the officers to her husband's retreat. If she was dead Frank James would have notified her parents. So they can only rest patiently in the uncertainty of perhaps seeing their daughter again."
Ralston never returned home, but despite the dramatic nature of their courtship and Frank's life of crime, they maintained a happy and stable marriage.
They had a son, Robert Franklin James, and following Frank's surrender and subsequent acquittal for murder in 1883, they remained together until his death in 1915.
Ann Ralston James lived out the rest of her days on the James family farm, before passing away in 1944, and the couple's ashes were buried together at Hill Park Cemetery in Jackson County, Missouri.
The letter
The letter, dated July 7, 1883, was written by James to his wife whilst he was in jail in Gallatin, Missouri.
James was awaiting trial for murder and robbery of the Rock Island Line train at Winston, Missouri, in which the train engineer William Westfall and a passenger Frank McMillan were killed.
Having spent a year in custody, James' trial began on August 20, and lasted just three days, before the jury returned a resounding verdict of 'not guilty'.
The tender love letter reveals James to be both highly romantic and highly literate.
Although he lived much of his life as a violent outlaw, he had been raised as a preacher's son surrounded by books, and during his youth developed a love for the works of Shakespeare.
James was said to always carry a book in his saddle bag, even when he was on the run from the law, and he shared this passion for literature with Ann throughout their 40-year marriage.
Here's the text in full:
My dear wife,
Your dear letter of the 1st was handed to me not exceeding an hour ago. It arrived here on the third, at least it is as marked. Now I sent foreword .. in this manner. There are very few men in this world that care anything for their wives, that they naturally suppose that all men are alike.
How badly they are deceived. If there is anything on this earth that is half as dear to me as my wife I have failed to find it. You are everything to me and the only living human being that has ever possessed my whole love, my entire confidence, the only one that ever will and I feel as that love and confidence will never be abused.
I have lived as I think to see all my fondest hopes realised. Long years ago I hoped and prayed that god would give me a true woman for my wife and i feel as if he has done so and anyone who has had a chance for happiness in this belief is more fortunate than the possessor of a thousand worlds.
I am trying to pass the time reading and writing - I regret that I am deprived of your beauty and I am writing to suffer that I have no visitors as told you in last.
Enclosed I send you an editorial from the trenchant pen of Rob M Yast that I think a grand effort.
I suppose you remember the circumstances of Jarvis shooting Englehart. Yast talks of love and forgiveness & Jarvis has shown that he possessed both - as also has Yast. He's shown himself to be a true friend of me and mine.
Yast seems a man of most liberal whims. I dare say nine out of every ten would say that they would not forgive Jarvis for what he has done. Yet if it is the means of reclaiming the human I don't think he will ever regret it.
Regarding mamma, this may not be interesting to you but it has been to me. I had a letter from ma today, she feels disappointed as you did not visit...
I supposed it was useless to ask you again so will end further requests. I also had one further service. she also sends her kindness in regards to you and asked why you did not write. Please write her and let her know I will write Monday again.
When you write, write me care of Sherriff - I don't think he will read them.
He has not opened any of my letters for a long time and if he should that would be better than not to get them so long after they're written. I will kiss you both good night - write often your loving Ben/ f**k it is raining hard at this time.
James autographs the letter as 'Ben', a protective alias that he used when writing to his loved ones.
The single page letter, with text on both sides, measures 203 by 126mm, with fold creases and bleeding of ink in some sections.
A remarkable piece of history, which offers a personal insight into one of the Old West's most legendary figures.
Free global shipping. 28-day returns. Certificate of Authenticity and our Lifetime Moneyback Guarantee of Authenticity included

BUY NOW: Order online, by phone +44 (0)1534 639 998, or via email info@paulfrasercollectibles.com
Payment & Security
Your payment information is processed securely. We do not store credit card details nor have access to your credit card information.