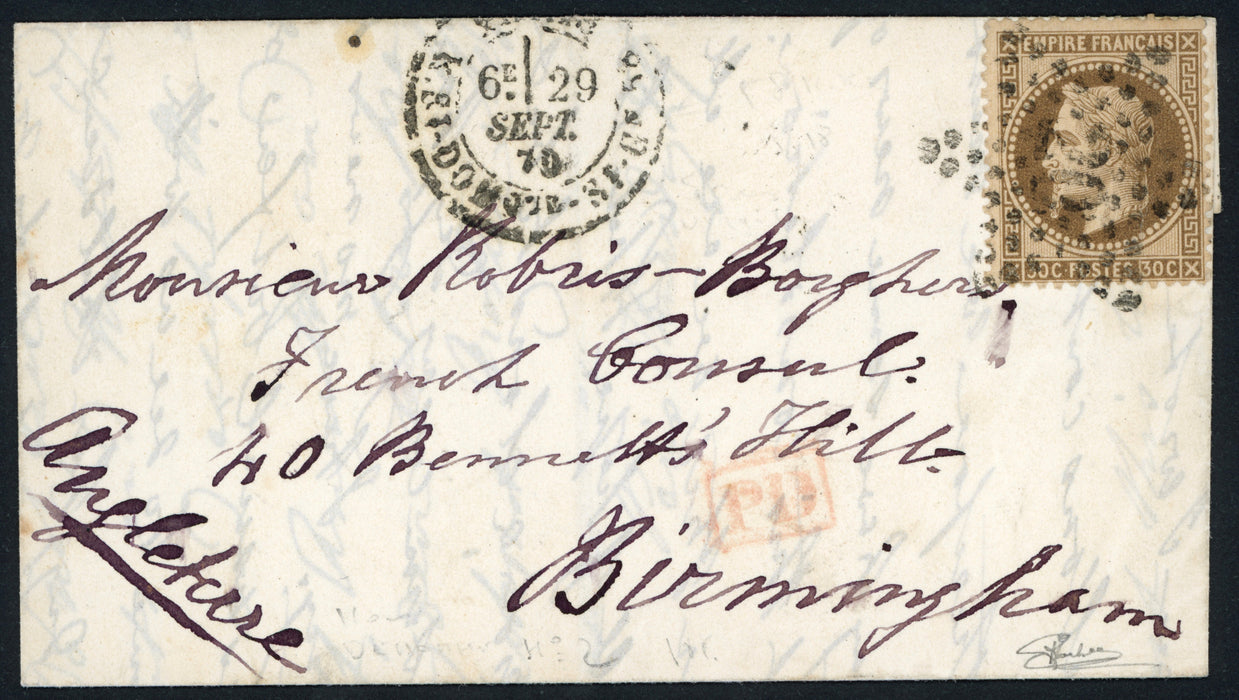 France 1870 Sixth Balloon of the Siege entire letter
France Sixth Balloon of the Siege: 1870 entire letter to Birmingham franked by Napoleon III 30c Empire, cancelled by Paris '20' star cancel, with circular date stamp dated '29 SEPT' alongside; carried on the 'Armand Barbès' which departed on the 7th October, backstamped by Birmingham arrival mark for 'OC 13'.
The letter was written in English to the French Consul, 40 Bennett's Hill, Birmingham.
A very fine quality entire letter and much finer than most examples. A fascinating piece of postal history and a poignant letter.
During the Siege of Paris in the Franco-Prussian War, the post from the capital survived thanks to a fleet of balloons and a host of carrier pigeons. At the time, Paris had suffered prolonged shelling by the Germans and Napoleon's empire had fallen.
On the day of departure of our letter, Paris had been under siege and completely isolated from the rest of France for nearly three weeks. The previous day had ended in disappointment after two trial balloons disappeared into thick fog at a few hundred feet.
On the morning of 7th October 1870, a huge crowd watched in anticipation around the launching pad in the Place St. Pierre Montmartre. The weather was much better and five nervous passengers boarded the open wicker baskets which would carry them over the Prussian enemy lines. 
The Armand Barbès had a special passenger onboard, which had attracted the crowds that day. The Delegate Minister, Leon Gambetta was virtually unique among his fellow Ministers. He was absolutely resolute in refusing to recognise defeat and was on his way to organise the Resistance in the Provinces.
Gambetta was smuggled out of Paris where he made it safely to Tours saving his life. He went on to become a prominent statesman and was responsible for setting up a new improvised government.
Payment & Security
Your payment information is processed securely. We do not store credit card details nor have access to your credit card information.