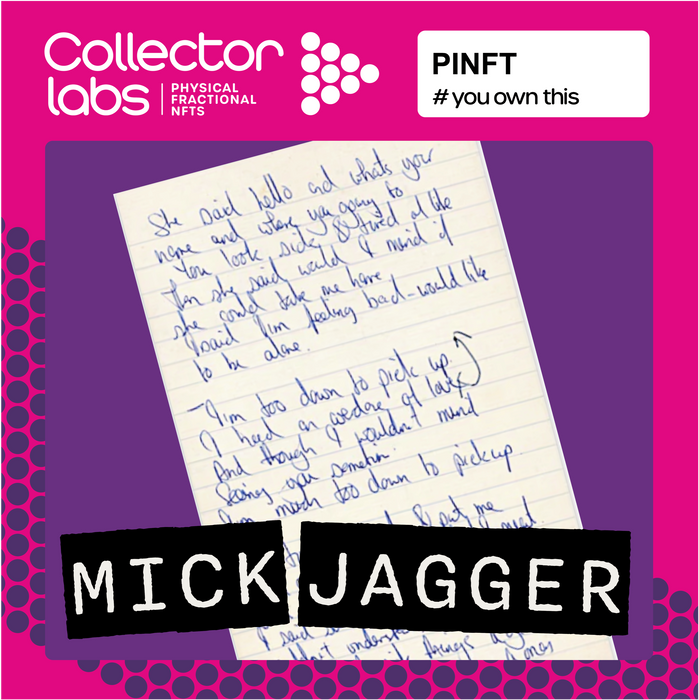 1/200 Fractional Ownership of Mick Jagger's handwritten Rolling Stones lyrics
1/200 Fractional ownership of a rare set of Mick Jagger handwritten Rolling Stones lyrics
Only 200 slices available - there will never be any more
Each slice comes with certification of ownership, authenticity and provenance
Each slice available for £80 ($100)
We are here to assist you when you decide to sell
Written for a previously unknown, unpublished song
Believed to date from a significant period, circa 1965
Please note: you are buying 1/200 fractional ownership of Mick Jagger's handwritten lyrics. You will not receive a physical collectible.
Details

A small sheet of lined paper, featuring handwritten lyrics by Mick Jagger on both sides. Jagger has written the lyrics in blue ballpoint ink.

Sheet measures 5 x 8 inches, and remains in excellent condition.

This unsigned set of lyrics is believed to date from 1965, during the earliest days of Jagger's career as a songwriter.

In September 1965 Jagger and Keith Richards wrote the original Stones song 'Sittin' on a Fence' during a tour of Ireland.

And notably, the song features the line:

"But there is one thing I could never understand,
"Some of the sick things that a girl does to a man".

The present manuscript features the almost identical line:

"I said my little girl, you wouldn't understand,
"Some of the sick things a girl does to a man".

It's highly unlikely that Jagger would later reuse an identical line from a song the Stones had already recorded.

Which directly points to him writing these lyrics before he wrote Sittin' on a Fence, prior to September 1965.

As such, this manuscript is a significant piece of Rolling Stones history, written by Jagger during arguably the most important period of his songwriting career.

In 1965 The Rolling Stones had their first original #1 hit, and made the transition from a blues cover band to a pop band famous around the world.

Jagger and Keith Richards went on to become one of pop music's greatest songwriting partnerships.

A superb piece of rock and roll history.

Provenance: ex Stanley Gibbons.

BUY NOW: Order online, by phone +44 (0)1534 639 998, or via email info@paulfrasercollectibles.com
You can also order directly through our partner

CollectorLabs
Payment & Security
Your payment information is processed securely. We do not store credit card details nor have access to your credit card information.