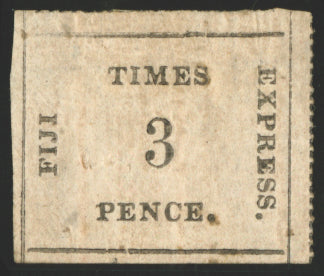 FIJI 1870-71 'FIJI TIME EXPRESS' 2d black/rose, SG6
£950.00
Fiji 1870-71 'FIJI TIME EXPRESS' 3d black/rose, thin vertically ribbed paper (with additional thickened lines), R4/1 on the sheet, roulettes on two sides, SG6.
A fine quality mint example with part original gum. Small thin spot, and minor marks and wrinkles, but in much above average condition for this difficult and rare stamp.
Accompanied with a British Philatelic Association (BPA) certificate of authenticity (1995).
Christian missionaries first reached Fiji in 1835. In 1852, Cakobau, the chief of the island of Bau, declared himself King of Fiji and converted to Christianity two years later. Internal problems and difficulties with the American government led the King to offer to cede Fiji to Great Britain. The offer was refused but resulted in the appointment of a British Consul in 1858.
The destruction of plantations in the Confederacy during the American Civil War led to an increased demand for Fijan cotton and this upsurge in commercial activity encouraged the Fiji Times newspaper on Levuka to establish a postal service on 1 November 1870.
These, the first stamps from Fiji, present a primitive charm to philatelists and were printed at the office of the Fiji Times, Levuka, Ovalau.

The Stanley Gibbons catalogue value is £1,800.
BUY NOW: Order online, by phone +44 (0)1534 639 998, or via email info@paulfrasercollectibles.com
Payment & Security
Your payment information is processed securely. We do not store credit card details nor have access to your credit card information.