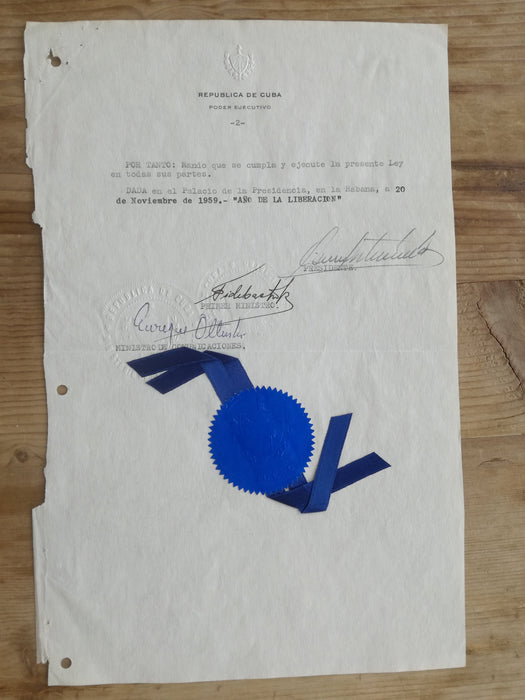 Fidel Castro signed government decree
An official Cuban government decree signed twice by Fidel Castro 
Fidel Castro (1926 – 2016) was a Cuban revolutionary and politician who led the Republic of Cuba as Prime Minister from 1959 to 1976, and then as President from 1976 to 2008.
Castro was the architect behind the Cuban Revolution in 1959, which overturned the right-wing authoritarian government and turned the nation into a one-party socialist state.
Castro remains one of the most divisive political figures of the 20th century, revered by many as a champion of social justice and anti-imperialism, and hated by others as a brutal dictator.
Prior to his death in November 2016, Castro was listed on the PFC40 Autograph Index as the world's most valuable living signature, with the price of his autograph having risen 16.9% per annum since 2000.
A rare 1959 official Cuban government decree featuring the superb autograph of Fidel Castro as Prime Minister. The document is also signed by the President of Cuba, Osvaldo Torrado, and the Minister of Communications, Enrique Oltuski. 
The decree is dated 20 November 1959 - just 11 months after Castro seized power. 
Castro has signed in black fountain pen above his title of "PRIMER MINISTRO". The page is enhanced by two official embossed seals under the signatures of Castro and Oltuski. 
A second page features a second Castro autograph, in the form of his initials. Torrado and Castro have both also signed this second page. 
The decree ended Cuba's use of an unpopular one cent postage stamp surcharge, used to fight tuberculosis in the country. 
It is accompanied by a card bearing the photos of Fidel Castro and Cuban politician Eduardo Chibas. It reads: "Verguenza contra Dinero!/Shame against Money", and "Libertad o Muerte/Freedom or Death".  
All documents are in fair condition. There is some tearing to both pages of the decree that does not affect the signatures.
Free global shipping. 28-day returns.
Payment & Security
Your payment information is processed securely. We do not store credit card details nor have access to your credit card information.