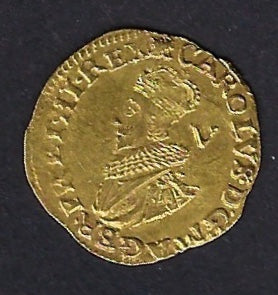 England, Stuart. King Charles I (1625-1649). Good Very Fine
England 1625-1628. Stuart, King Charles I. Group 'D' Second bust, square topped shield. Ref: S2711.
Obv. Crowned bust of Charles left with ruff, denomination behind 'V'. CAROLVS D'G' MA' BR' FR' ET HI' REX'.
Rev. Crowned Royal Arms in square-topped shield, 'CVLTORES SVI DEVS PROTEGIT' (God protects his worshippers). 20mm, 2.2g. Good very fine, well struck on a full flan. Pretty little coin on a large flan. Portrait and details of arms strong. It is quite difficult to get these small gold denominations in a good strike - and this is a particularly pleasing piece.
Payment & Security
Your payment information is processed securely. We do not store credit card details nor have access to your credit card information.