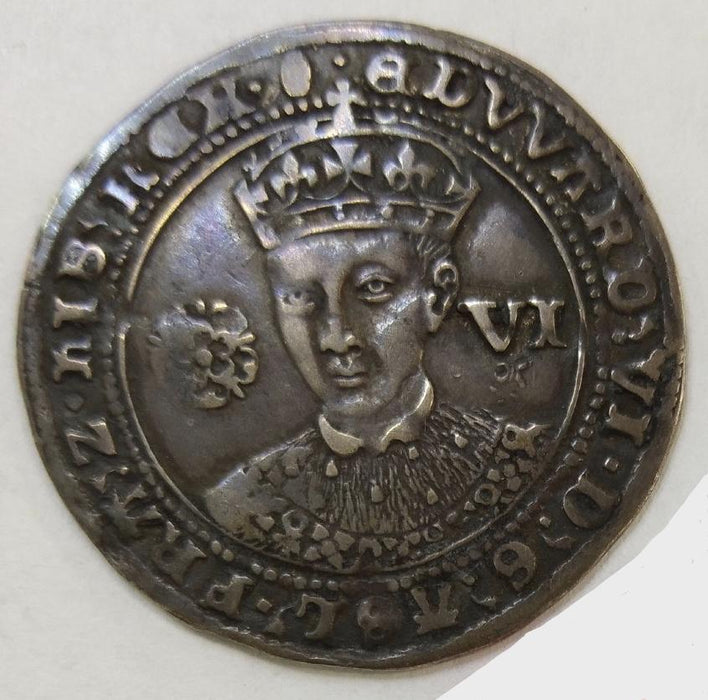 England, Edward VI – 1551-3 Silver Sixpence
King (reign): Edward VI (1547 - 1553)
Denomination/metal: Silver Sixpence
Date/mint mark: mm. Tun, 1551 – 1553
Ref. no: S 2483
Obv. Half facing bust left, 'EDWARD VI D G AGL FRA Z HIB REX'. Denomination' VI' behind.
Rev. Royal arms on cross fourchee,'POSVI DEV' ADIVTORE' MEV'', (I have made the Lord my helper).
28mm, 2.99g.
AEF - About Extremely Fine, well struck and nicely toned.
Very handsome little coin, well struck with no weak areas and nicely toned.  However, what is particularly interesting about this coin is the very small 'privy mark' under the denomination.  This is engraved on the die and appears to be a small fish or a chalice on its side.  Very interesting and hitherto unrecorded.  Issued in the latter part of the Boy King's reign when he was only thirteen or fourteen years of age, is a superb contemporary portrait of Henry VIII's sickly son Edward VI. Just over a year or so later, in February 1553, at age 15, Edward fell ill.  When his sickness was discovered to be terminal, he and his Council drew up a "Devise for the Succession", attempting to prevent the country being returned to Catholicism.  Edward named his cousin Lady Jane Grey as his heir and excluded his half sisters, Mary and Elizabeth.  However, this was disputed following Edward's death and Jane was queen for only nine days before Edward's half-sister, Mary, was proclaimed Queen.  She reversed Edward's Protestant reforms, which nonetheless became the basis of the Elizabethan Religious Settlement of 1559.
Payment & Security
Your payment information is processed securely. We do not store credit card details nor have access to your credit card information.