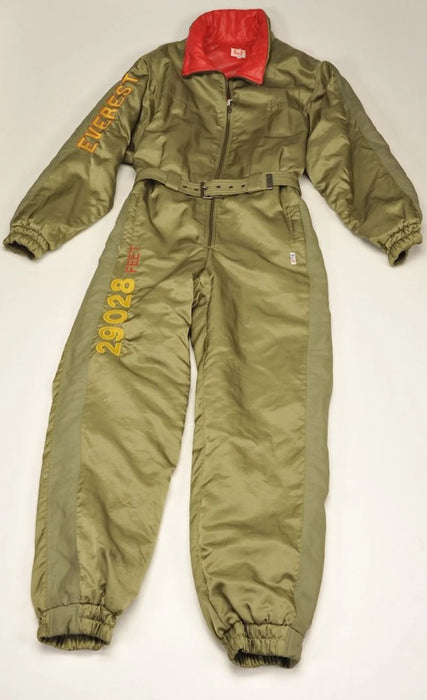 Elton John owned and worn jumpsuit
A jumpsuit worn by Elton John live onstage during a 1982 tour 
Flamboyant star Elton John (1947-) is a multi-award winning British musician, receiving a knighthood in 1998 for his talents and charitable work.
Working as a prolific singer and songwriter, he has seen success in both fields, becoming a Fellow of the British Academy of Songwriters and Composers in 2004. He is patron to the arts and numerous charitable foundations.
Elton has played to over 2 million people across 4 continents. To date, his 1997 single Candle in the Wind is his biggest selling with over 33 million copies sold.

This is Elton's jumpsuit from his 1982 Jump Up tour. The metallic green, flying style jumpsuit with red fleece interior has 'Everest' printed down one arm and '29028' printed down one leg.
Owned and worn by Elton. A rare piece of music memorabilia.
Click here to discover more about this item.
Free global shipping. 28-day returns. Certificate of Authenticity and our Lifetime Moneyback Guarantee of Authenticity included. 
BUY NOW: Order online, by phone +44 (0)117 933 9500, or via email info@paulfrasercollectibles.com
Payment & Security
Your payment information is processed securely. We do not store credit card details nor have access to your credit card information.