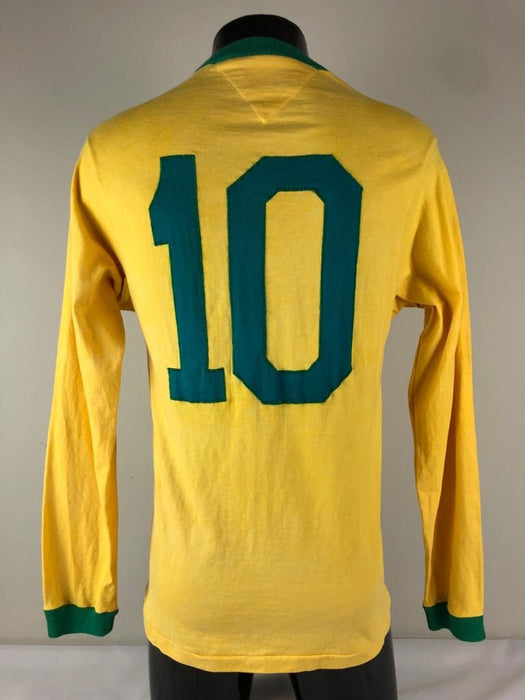 Pele game-worn 1971 Brazil shirt
A Pele game-worn Brazil number 10 football shirt
Dated to a friendly in 1971 (Pele's last year before his international retirement)
Made by Athleta
Pele is one of the greatest players in football history, celebrated for his grace on the pitch and his astonishing career achievements. The legendary Brazilian striker holds the record for most goals scored (1,283 across 1,363 games). He's also the only player to win three world cups (in 1958, 1962 and 1970). In 1999 FIFA voted Pele Player of the Century. He remains a hero for football fans the world over.
This spine-tingling Brazil number 10 shirt is an authentic piece of football history.
Pele wore it in a 1971 friendly - either his penultimate game for Brazil (1-1 against Austria on 11 July in Sao Paulo) or his final match (2-2 against Yugoslavia on 18 July in Rio de Janeiro). 
As such, this is one of the last Brazil shirts Pele would wear competitively, giving it tremendous importance. 
In 1971 Brazil were fresh from their third World Cup victory, announced by the three stars above the badge on the shirt. 
Made by Athleta - Brazil's official kit supplier.
The shirt has superb provenance. It was previously owned by Brazilian team co-ordinator Marcos Moura Teixeira, who worked for the Brazilian football federation (CBF) in the 1990s. The piece is accompanied by a signed letter of provenance from Teixeira. 
Game worn Pele jerseys are rare and in high demand among collectors. This is an opportunity to own a very fine example.  
Free global shipping. 28-day no quibble returns.
Payment & Security
Your payment information is processed securely. We do not store credit card details nor have access to your credit card information.