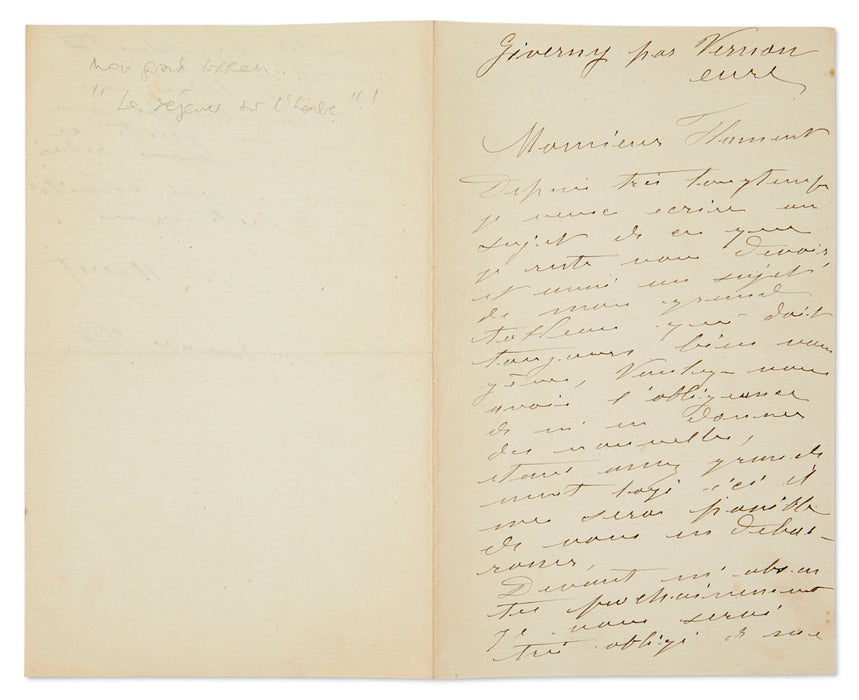 Claude Monet handwritten & signed letter
A Claude Monet handwritten & signed letter dating from 1840

With exceptional content regarding his famous 'lost' painting Le Déjeuner sur l'herbe
Claude Monet (1840 - 1926) is one of history most famous and influential painters. Known as the 'Father of Impressionism', he inspired generations of artists with his use and depictions of natural light.
Today Monet's works can be found in the world's finest art museums, and he remains one of a handful of artists to have broken the $100 million mark at auction.
A letter written by Monet in January 1840 to his former landlord Alexandre Flament, requesting the return of his monumental painting Le Déjeuner sur l'herbe.
Monet began the artwork in 1865 but was forced to abandon the unfinished project in 1866.
He later used the huge 6 x 4m canvas as collateral against unpaid rent and debts to Flament, from whom he rented a house in Argenteuil.
In 1884, having found financial success as an artist, Monet wrote to Flament to pay off his outstanding debts and recover the artwork. However, once returned he discovered it had been stored in a cellar and badly damaged by damp and mould.
Today the surviving fragments are displayed together at the Musée d'Orsay in Paris.
Although it remained unfinished, Le Déjeuner sur l'herbe has been described as the "most important painting of Monet's early period".
The letter reads:
"Mr Flament, I have meant to write to you for a long time about my belongings that are still with you and especially about my large painting that is probably very troublesome for you because of its size.
"Can you please be so kind as to give me news about the painting because I am now better paid here and I believe it would be possible for me to relieve you from keeping it.
"As I have to organise myself in the near future, I would be grateful if you could answer me as soon as possible and also inform me of what I still owe you."
 The letter is written across two pages on adjoining sheets, measuring 4.5 x 7.25 inches.

In fine condition, with an exceptional crisp, clear example of Monet's signature.
For more information visit this blog post about this fine letter, with significant content regarding one of Monet's most famous works.

Free global delivery. 28-day returns. Certificate of Authenticity and our Lifetime Moneyback Guarantee of Authenticity included. 
BUY NOW: Order online, by phone +44 (0)117 933 9500, or via email info@paulfrasercollectibles.com
Payment & Security
Your payment information is processed securely. We do not store credit card details nor have access to your credit card information.