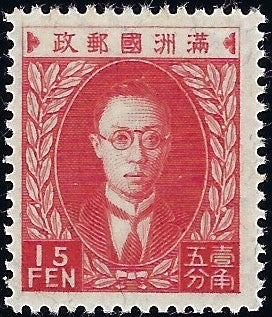 China 1934 Manchukuo 1934 15f rosine, SG30
China 1934 (Jan-Aug) Manchukuo 1934 15f rosine, recess printed with inscription type C, watermark w5, SG30.
A fine and fresh mint example with large part original gum. A couple of faintly toned perforations, which do not detract from overall quality.
In 1905, after the Russo-Japanese War, Japan took over from Russia the lease of Port Arthur and Dairen in Kwangtung with the right to station troops in Manchuria to guard the South Manchurian Railway, which was also leased to Japan. On 18 September 1931 these troops began the complete seizure of Manchuria.
The independence as the state of Manchukuo was declared by Japan 0n 18 February 1932. Pu Yi as a child had been the last Emperor of China and was made Chief Executive. On 1 March 1934 he was enthroned as Emperor Kang-teh. In January 1934, the Chinese provenance of Jehol was annexed to Manchukuo.
BUY NOW: Order online, by phone +44 (0)1534 639 998, or via email info@paulfrasercollectibles.com
Payment & Security
Your payment information is processed securely. We do not store credit card details nor have access to your credit card information.