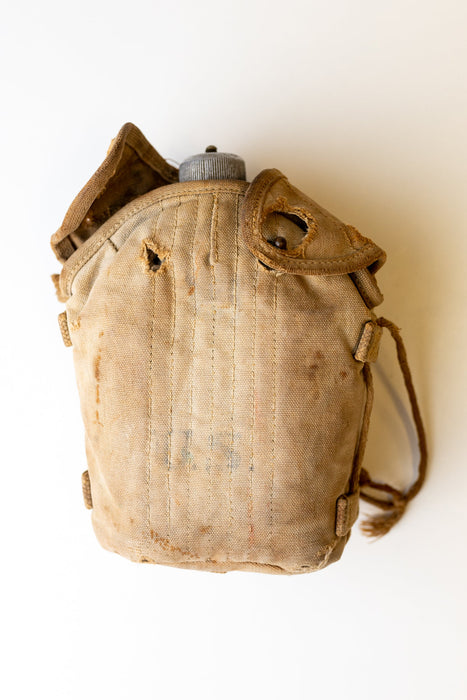 Che Guevara's personal signed military water bottle
Che Guevara's personal military canteen water bottle, used by Guevara in the second half of the Cuban revolution.

History
During the second half of the Cuban revolution, Guevara was losing men to malaria at a rate that could have been disastrous.
Guevara instructed his men to put their names on the bottom of their canteen bottles. So when the bottles were being filled with water they would always be returned to the correct person. This was designed to slow the spread of malaria from man to man.
Guevara did the same on his bottle. His signature "che" on the foot of the bottle is now faint but remains visible.
A wonderfully personal and important piece of Guevara and Cuban revolution history.
Provenance
Acquired by the previous owner at the estate sale of Fidel Castro's mistress Natty Revuelta Clews, between December 2015 and July 2016.
The previous owner is British businessman Mr Gary Shannon, who knew the Castro family and their associates for 20+ years from circa 2000. Mr Shannon helped provide technology and communications infrastructure to Cuba.
The item formed part of Mr Shannon's private Jagdamer Museum of Castro and Guevara memorabilia, from 2016 to 2020.
Natty Revuelta Clews (December 26, 1925 – February 27, 2015) was the mistress of Fidel Castro from 1955 until her death. Their daughter, Alina, was born in 1956.
Revuelta - a wealthy socialite - was instrumental in assisting Castro overthrow the Batista regime in Cuba.
Revuelta sold her jewels to support the Cuban rebels, helped plan the 26th of July Movement uprising in 1953 and, crucially, helped Fidel Castro co-ordinate the Cuban Revolution while he was imprisoned between 1953 and 1955, through exchanging secret messages with Castro.
The pair began their affair upon Castro's release from prison in May 1955.
Free global delivery. 28-day no quibble returns. Certificate of Authenticity and our Lifetime Moneyback Guarantee of Authenticity included.
BUY NOW: Order online, by phone +44 (0)1534 639 998, or via email info@paulfrasercollectibles.com
Payment & Security
Your payment information is processed securely. We do not store credit card details nor have access to your credit card information.