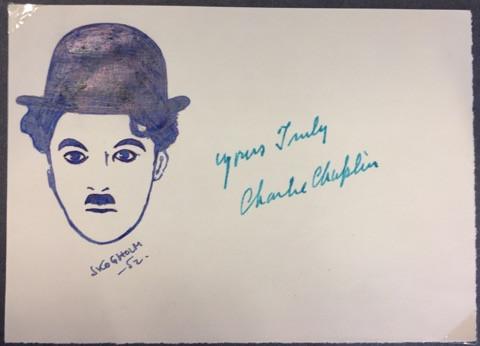 Charlie Chaplin signed portrait
An ink portrait of Charlie Chaplin signed by Chaplin himself
Dated to 1952, around the release of Limelight
Charlie Chaplin was the biggest star of the silent era. Born into poverty in Victorian London, he found his way to the stage and on to Hollywood. He came up with the character of the Tramp in 1914. By 1918 he was a household name. A string of classic movies followed, including The Kid (1921), Modern Times (1936) and The Great Dictator (1940).
This is an ink portrait of Charlie Chaplin in character as the Tramp by the Danish artist Carl Werner Skogholm. The drawing is dated 1952. Chaplin has signed to the right of his portrait "Yours truly, Charlie Chaplin".
The date means Chaplin likely signed around the release of Limelight (1952), in which he stars as a washed up former comedian. This is around the time he was barred from America for being a suspected communist. 
The item is fixed to a paper backing with tape to the top left and bottom right corners. 
Free global shipping. 28-day returns.
Payment & Security
Your payment information is processed securely. We do not store credit card details nor have access to your credit card information.